A Message From Our Administrator Concerning the Coronavirus (COVID-19)
Thank you for your continued support during these challenging times. Our ultimate priority is the health and safety of our residents and staff.
Parc Provence continues to take extensive precautionary measures to protect our vulnerable residents by implementing further modifications to help safeguard the safety of our residents and staff. We are collaborating with our Medical Director, Dr. David Carr, and Associate Medical Director, Dr. Lenise Cummings-Vaughn, both who have earned reputations as leading specialists in Alzheimer's disease and geriatric medicine at Washington University's School of Medicine in St. Louis, as well as the appropriate authorities and experts, to ensure we are doing everything we can.
We will also continue to monitor information and follow recommendations from the U.S. Centers for Disease Control and Prevention (CDC), St. Louis County Department of Health, and Missouri Department of Health & Senior Services (DHSS).
All residents' vital signs—temperature, blood pressure, pulse, respiration, and oxygen saturation—are monitored three times a day for any variations that could be early indicators of illness.
In accordance with the Department of Health & Senior Services SLRC Guidance, residents are not to leave the building unless for a necessary medical reason that cannot be addressed within our community. If a resident leaves the building, they are potentially risking their health and the health of others, as well as potentially being discharged from Parc Provence.
We are not allowing visitors to enter our community.
We understand not seeing your loved one may cause a temporary hardship for residents and their family members. We sincerely apologize for any inconvenience as we are taking the highest measures possible for the safety of our residents and staff.
We have three screening locations for staff based on households to provide further separation of employees to reduce contact and social distancing. We continue to screen all staff with a temperature check and health screening questionnaire (which includes questions regarding any travel in the last 30 days, individual symptoms, and any potential exposure to others with symptoms consistent with flu, COVID-19, or any respiratory illness). Temperatures of each team member are checked before the start of their shifts. As of Friday, April 3, 2020, all staff, private duty, and companions are required to wear a face mask while in the building. Ongoing training and education are being provided to team members. Vendors are delivering to the dock; they are not entering the building.
As of April 29, Personal Protective Equipment (PPE)—including N-95 masks, gloves, gowns, hair coverings, shoe coverings, goggles, and face shields—is  available for all staff to use as needed. Please know that all these precautionary actions are in the best interest of our residents and staff and at the direction of Dr. David Carr. 
The additional following steps are being taken in our community:
ENHANCED CLEANING:
Our team remains focused on frequent enhanced cleaning and sanitizing throughout the building.

Staff is required to wear a face mask while in the building. This requirement includes private duty and companions as well.

Hand sanitizer is also available.

We have applied an antimicrobial, non-chemical disinfectant mist to all of our common areas to further sterilize the environment against any potential contagious germs.

We continue to practice proper handwashing.
SOCIAL DISTANCING:
We continue to practice proper social distancing.

We have marked the floor with duct tape to ensure the recommended social distance of six feet. For example, taping can be found by the receptionist's desk and all office spaces.

We are using retractable belt barriers in some areas to maintain social distancing as well.

Staff is wearing stickers or pins that read "Stay 6 feet away."

Household movement has been minimized to those who only need to be in the household. When possible, staffing is being consistent to reduce the number of different staff within a household.

Staff is asked to call one another, rather than going to offices or other households, whenever possible to minimize movement within the community.

All couches have been removed from the households. Additional chairs have been placed in the household living rooms six feet apart.

To maintain social distancing, we have designated other areas within the building (besides the employee break room) for our staff to take their meal breaks. These areas include the front bistro, all activity rooms, household sunrooms, and the lower level conference room. At smaller tables, there may only be one person per table.

Residents who are receiving therapy (PT, OT, ST) and restorative services will be seen in their resident room.
DINING AND ACTIVITIES:
As of March 23, 2020, we are keeping all residents in their households. Activities will be held within the individual households and modified trying to keep similar topics as scheduled throughout the day.

All events and activities will be in an adjusted setting in the household with ten or less in attendance.

Residents will be provided meal service in their rooms.

We are suspending the use of outside volunteers and entertainers.

We are temporarily discontinuing outings.
RESPONSIBLE PARTIES/FRIENDS/FAMILY MEMBERS:
DO NOT visit at this time; we are not allowing visitors to enter the community.

As of Monday, March 30, 2020, we have a designated station in our loading dock area on the south side of the building where families can drop off clothing/supplies/packages for their loved ones. Items may be dropped off at this station from 9:00 am – 6:00 pm, and we ask that you please call on your way here to alert us that you will be dropping off supplies. Please ensure all items are clearly labeled with the resident's name, so they can be picked up and delivered to the resident.

Call, email, write, Facetime/Skype your loved one. The Charles Knight Foundation kindly donated three tablets to Parc Provence enabling us to provide more time to Skype between our residents and their loved ones. To schedule a Facetime/Skype time, please contact Katie Wilde at (314) 453-7314  (

kwilde@parcprovence.com

) or Brigid McGuire at (314) 453-7340 (bmcguire@parcprovence.com).

Communicate with our Parc Provence staff any questions, concerns, or needs you or your loved one may have.
We are thankful that our staff has continued to show unwavering dedication to our residents during this uncertain time. Their love, compassion, and caring nature are unparalleled. 
We ask you to keep our residents, and those caring for them, in your thoughts and prayers, and we appreciate your well wishes. You are welcome to contact me if you have any questions, concerns, or need assistance.
– Kathy Aragon, RN, Parc Provence Administrator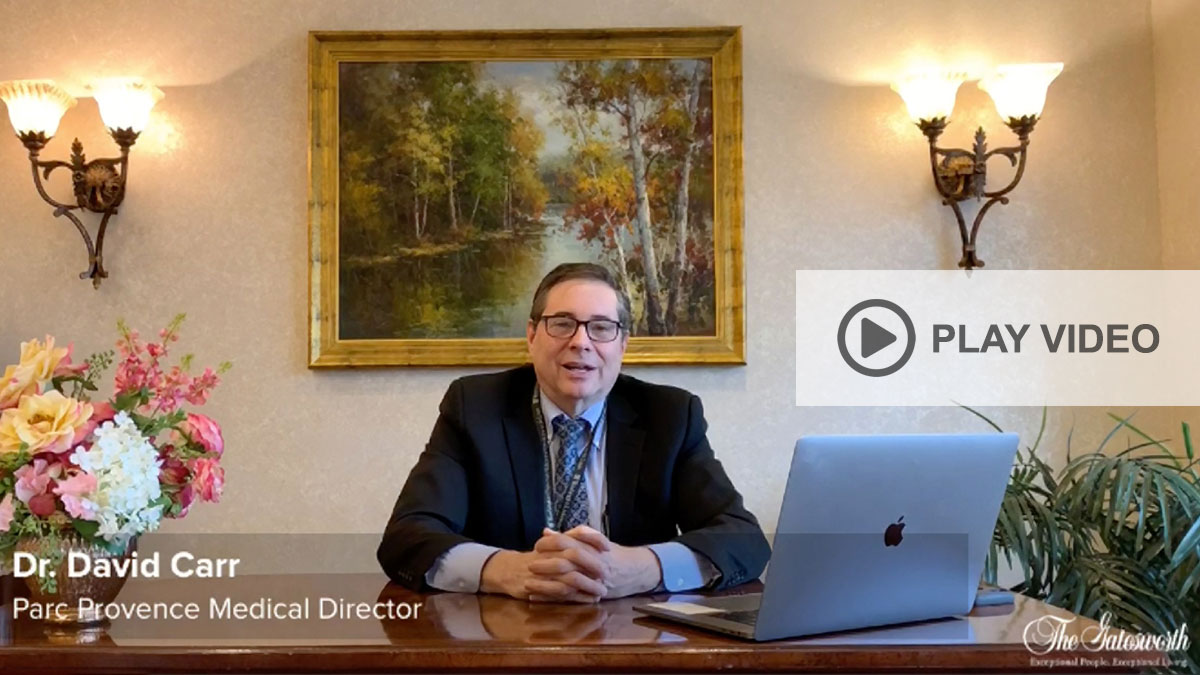 A message from Dr. David Carr, Parc Provence Medical Director and Clinical Director of the Division of Geriatrics and Nutritional Science at Washington University, regarding COVID-19 symptoms and hygiene techniques.
Additional information concerning COVID-19:
We are closely monitoring the increase in cases of COVID-19. We are following guidelines from the U.S. Centers for Disease Control and Prevention (CDC), St. Louis County Department of Health, and Missouri Department of Health & Senior Services (DHSS). Our decisions are based upon their guidance combined with the expertise of our teams.
We understand this virus is a concern for everyone and our strategy is based on an abundance of caution. We are being proactive but also reasonable about any changes to day-to-day operations.
Health officials agree the best defense techniques are:
Frequent hand washing using proper hand hygiene by scrubbing with warm water for at least 20 seconds. Hand sanitizer is useful but does not replace washing with soap and hot water.
Avoid touching your face and keep your hands away from your nose, mouth, and eyes.
Practice social distancing in all situations.
Cover your mouth and nose with a tissue or bent elbow when coughing or sneezing. Discard the tissue immediately and clean your hands.
We are continuing to prepare for any situations that may arise. We will continue to provide updates as needed as this situation is changing rapidly.
Please note that all statements and recommendations could change as the government agency recommendations change.
Thank you for your cooperation and understanding.