A Message From Our Administrator Concerning the Coronavirus (COVID-19)
March 30, 2020 (Update)
Thank you for your continued support and positive feedback. As the world situation keeps evolving, Parc Provence continues to take further precautionary measures to prevent our exposure to Coronavirus 2019 (COVID-19).
The health and wellness of the people who live and work at Parc Provence remain our number one priority. It is our goal to continue to keep everyone updated with facts, as opposed to the fear often portrayed through the media. We have continued to receive more information and recommendations from the U.S. Centers for Disease Control and Prevention (CDC), St. Louis County Department of Health, and Missouri Department of Health & Senior Services (DHSS). There are no confirmed cases of the virus in our community.
To avoid exposure to the virus and in accordance with the Department of Health & Senior Services SLRC Guidance, residents are not to leave the building unless for a necessary medical reason that cannot be addressed within our community. If a resident leaves the building, they are potentially risking their health and the health of others, as well as potentially being discharged from Parc Provence. We are happy to assist with ordering items, shopping for you, or anything else you may need, in order to prevent possible exposure by others outside of the building.
As of March 23, 2020, we are keeping our residents in their households. Activities are held in the households and are modified. We are trying to keep similar topics as scheduled throughout the day. We are continuing to offer fun events and activities such as current events, chair exercise, music sessions, virtual museum tours, virtual field trips, happy hour, movie nights, fireside chat, etc. All events and activities are in a modified setting in the household with ten or less in attendance.
We are not allowing visitors to enter our community.
This is critical to mitigating the possible spread of the virus. We are screening all staff with a temperature check and health screening questionnaire (which includes questions regarding any travel in the last 30 days, individual symptoms and any potential exposure to others with symptoms consistent with flu, COVID-19 or any respiratory illness). Temperatures of each team member are being checked before the start of their shifts. Ongoing training and education are being provided to team members. Vendors are delivering to the dock; they are not entering the building.
For our residents, we are checking their temperatures daily. If a resident leaves the building, we will check their temperature upon return to the community. We will be monitoring our residents closely for signs and symptoms of flu. We are ready to provide assistance and respond to their needs quickly. We will also be happy to do temperature checks at any time for any resident upon request.
The additional following steps are being taken in our community:
ENHANCED CLEANING:
Our team remains focused on frequent enhanced cleaning and sanitizing throughout the building.

Hand sanitizer is also available.

We have applied an antimicrobial, non-chemical disinfectant mist to all of our common areas to further sterilize the environment against any potential contagious germs.

We continue to practice proper handwashing and social distancing.
DINING AND ACTIVITIES:
We are keeping all residents in their households. Activities will be held within the individual households and modified trying to keep similar topics as scheduled throughout the day.

All events and activities will be in an adjusted setting in the household with ten or less in attendance.

We are continuing our dining program with table service for meals and happy hours, but have ceased the use of any self-service stations. To reduce the number of residents in the dining room and promote social distancing, only two residents will be seated at each four-top table. We are strongly encouraging residents to adhere to meal times.

We are suspending the use of outside volunteers and entertainers.

We are temporarily discontinuing outings.
RESPONSIBLE PARTIES/FRIENDS/FAMILY MEMBERS:
DO NOT visit at this time; we are not allowing visitors to enter the community.

Effective Monday, March 30, 2020, we will have a designated station in our loading dock area on the south side of the building where families can drop off clothing/supplies/packages for their loved one. Items may be dropped off at this station from 9:00 am – 6:00 pm, and we ask that you please call on your way here to alert us that you will be dropping off supplies. Please ensure all items are clearly labeled with the resident's name, so they can be picked up and delivered to the resident.

Call, email, write, Facetime/Skype your loved one. We are still offering Facetime/Skype appointments. Please contact Katie Wilde, Director of Well-Being or Brigid McGuire, to set up an appointment.

Communicate with our Parc Provence staff any questions, concerns, or needs you or your loved one may have.
It is so important we all do our part to keep COVID-19 out of our building to the best of our abilities. We understand not seeing your loved one may cause a temporary hardship for residents and their family members. We sincerely apologize for any inconvenience, but we are taking the highest measures possible for the safety of our residents and staff.
We want to thank you again for your support as we work through this together. We will keep you informed and updated as the situation changes. Our team is continually creating ways to keep our residents safely engaged and active with each other, staff, and family/friends. In the meantime, remember to wash your hands frequently and practice social distancing. Please do not hesitate to contact me if you have any questions or concerns.
– Kathy Aragon, RN, Parc Provence Administrator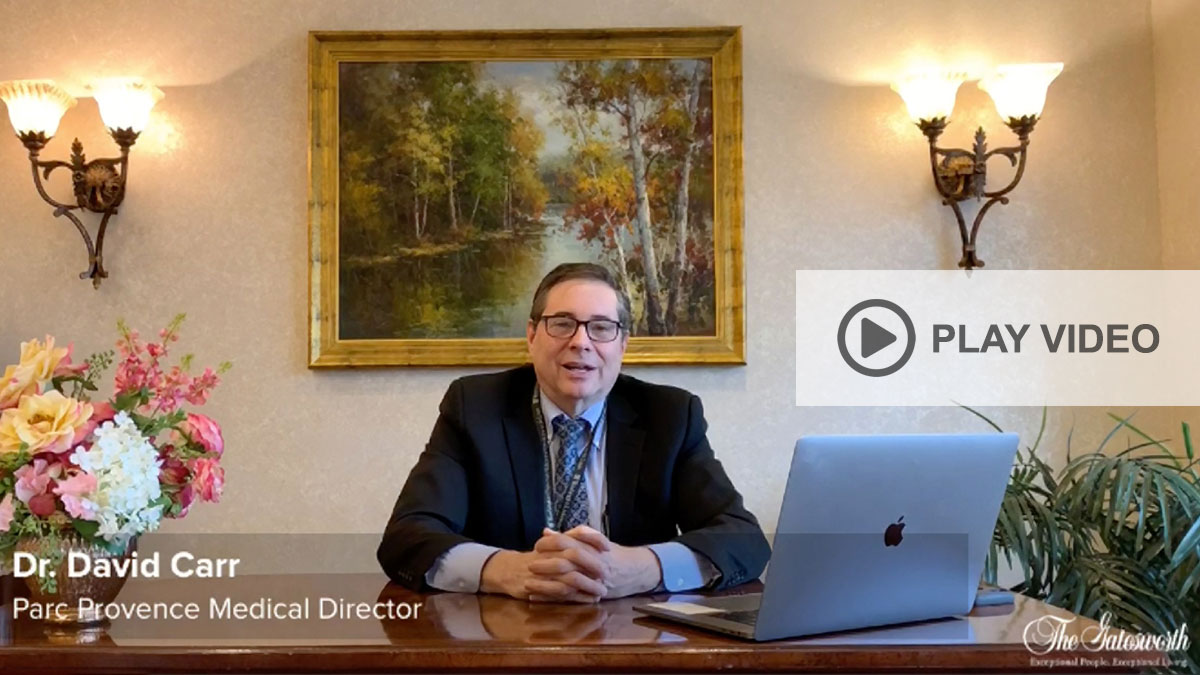 A message from Dr. David Carr, Parc Provence Medical Director and Clinical Director of the Division of Geriatrics and Nutritional Science at Washington University, regarding COVID-19 symptoms and hygiene techniques.
Additional information concerning COVID-19:
We are closely monitoring the increase in cases of COVID-19. We are following guidelines from the U.S. Centers for Disease Control and Prevention (CDC), St. Louis County Department of Health, and Missouri Department of Health & Senior Services (DHSS). Our decisions are based upon their guidance combined with the expertise of our teams.
We understand this virus is a concern for everyone and our strategy is based on an abundance of caution. We are being proactive but also reasonable about any changes to day-to-day operations.
Health officials agree the best defense techniques are:
Frequent hand washing using proper hand hygiene by scrubbing with warm water for at least 20 seconds. Hand sanitizer is useful but does not replace washing with soap and hot water.
Avoid touching your face and keep your hands away from your nose, mouth, and eyes.
Practice social distancing in all situations.
Cover your mouth and nose with a tissue or bent elbow when coughing or sneezing. Discard the tissue immediately and clean your hands.
We are continuing to prepare for any situations that may arise. We will continue to provide updates as needed as this situation is changing rapidly.
Please note that all statements and recommendations could change as the government agency recommendations change.
Thank you for your cooperation and understanding.