Meet Art Therapist Laura Schmid
Meet Art Therapist Laura Schmid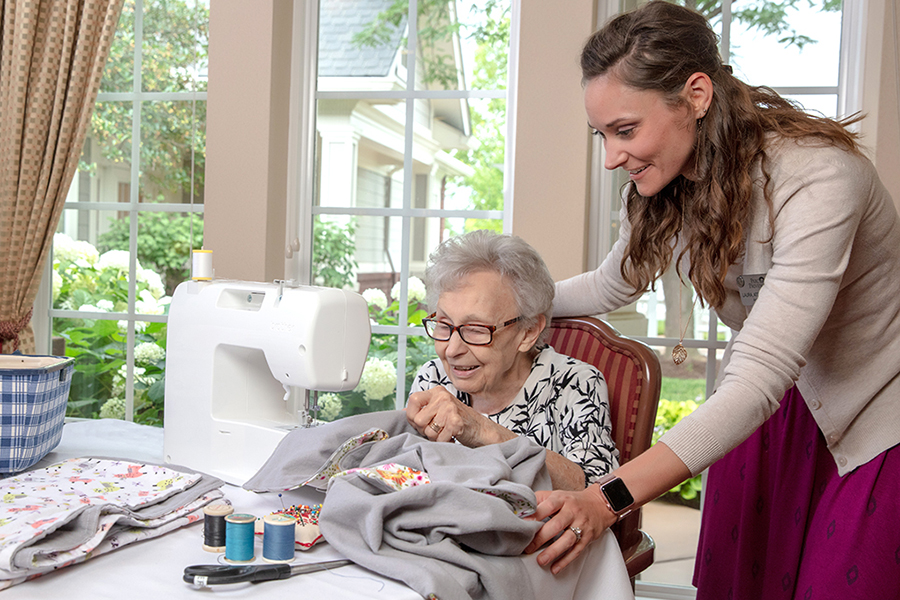 Almost 11 years ago, Laura Schmid established the Art Therapy Program at Parc Provence. Her education, including a master's degree in counseling and art therapy, coupled with her experience caring for people with memory loss, help her offer the insights and understanding our residents need to live their best lives.
To help you get to know Laura, and our Art Therapy Program, a little better, we've asked her to answer a few questions.
Q: What drew you to working with older adults in the field of memory care?
A: It's a gift to be able to work with older adults in their final years. I love being able to help them find joy, comfort, and meaning in a time of life that can be lonely and scary. Using art therapy, I can help our residents explore and understand these life changes. This is a period in their lives when they can review their lives, perhaps find some resolution, or achieve some insight about past conflicts and struggles. I work with them to help them redefine identity, to encourage memories that will enrich their life histories. I think there's something special about being witness to all of that.
Not long ago, one of our residents had her 100th birthday. Her wish that year was to win an art contest. For months, we worked together diligently on her paintings. I found a local art contest and helped her enter her work. It was great to see the expression on her face when I told her she had won first place. That moment, and so many others, confirm that I am in the right place. I love what I do.
Q: How would you describe art therapy to those who may be unfamiliar with it?
A: Art therapy is a therapy service that doesn't rely only on verbal processing and communication. It is adaptable and can be tailored for anyone, at any age, with any ability.
It integrates the creative process with models of counseling and psychotherapy. At Parc Provence, the art process is therapeutically applied and individualized for each participant to work toward an established goal. This process is viewed as a meaningful and purposeful activity. The outcome or product is not necessarily the primary focus. The artwork that results from the therapy sessions is, however, a tangible product the artist can revisit and review to further understand and find meaning in the creative expression.
The artist can also relate to the image or object created rather than to the self, which can be more intimidating. There are times when art therapy can achieve outcomes and offer insights in situations where traditional counseling may not. This is especially true if the participant has a limited ability to verbally process or communicate.
Nevertheless, an art therapist's goals are much like those of a traditional therapist. We provide both individual and group experiences to improve and restore a person's functioning and sense of well-being.
Q: Why use art therapy? Why not offer a painting or sculpture class?
A: Art therapy and traditional art classes differ because art therapy uses art to achieve specific therapeutic and goal-oriented outcomes. An art class focuses on teaching the participant a skill or specific task and using that skill to produce an object. Art therapy is process-oriented rather than object-focused. And art therapy can be individualized to meet specific treatment goals that go well beyond the completion of a piece of art.
Q: How is art therapy specifically applied to working with memory care at Parc Provence?
A: The Art Therapy Program is designed to enrich and enhance the quality of life for our residents. Parc Provence has a unique, holistic, activity-based model of care that is designed to help our residents function at their highest possible level and maintain functional abilities for as long as possible.
We identify each resident's strengths, areas of growth, and remaining abilities. We offer a wide variety of resources to residents to help keep them actively engaged and stimulated. Art therapy is one of the resources we offer to help us achieve those goals.
Art therapy stimulates the brain in important ways, a distinction that makes a difference in caring for people with memory diseases. An art-therapy experience can simultaneously offer visual, auditory, and sensory stimulation, making it a holistic treatment approach that engages all five senses to fully activate the brain.
In art therapy, the process of making art promotes memory recall, encourages socialization, supports and maintains the use of fine motor skills. It also promotes planning and making associations.
When we work with art materials, we use our sense of sight to see colors, patterns, and images. We use our sense of touch when we select and manipulate different materials. We use problem-solving skills as we make choices about materials, select colors, determine placement, and follow instructions.
The images we see during this process help our brains make connections using emotions, memories, and life experiences. Art therapy sessions are designed to be both emotionally and cognitively stimulating.
Q: How does this process affect participants?
A: One of the most common and easily observed outcomes is a change in the quality of life through improved mood.
I can recall a time when a gentleman joined a therapy group who didn't identify himself as an artist (and who didn't particularly want to join). But as the group moved forward, he became more responsive – and social because others were praising his work. Not only did the person develop social connections, he also became more positive and confident in his self-identity.
These kinds of meaningful connections help people with memory deficits establish a healthy sense of self and maintain a sense of belonging while increasing quality of life. When these individuals feel supported and receive positive feedback about their artistic efforts, they often walk away feeling confident and valued. And these feelings often carry over to other activities, encouraging a sense of confidence.
We can tailor an individual art therapy session to a resident's specific needs, creating an environment in which he or she can safely explore sensitive and personal topics. Often, we explore issues of loss and change.
I worked with one resident for many years, exploring the changes her memory loss was causing. She spent many sessions making models and images of brains. She used art therapy to talk about her brain and its changes. She expressed her sense that something was wrong, that she felt crazy at times and scared. But the work she did in art therapy ultimately helped her feel more confident, more relaxed.
She enjoyed painting when she felt upset and related that activity to an increase in self-esteem and self-identity. When we begin to lose our memories, we begin to lose a sense of who we are. Art therapy can help establish a positive sense of self and identity that is an essential part of memory care.
Art therapy offers us an opportunity to learn a good deal about each of our residents. Though some of them may not be able to express themselves verbally, they can use the process of making art to communicate what they are thinking and feeling. Their art helps us to understand who they are.
Resident Art Show and Open House Set for Sept. 9
Learn more about the Parc Provence Art Therapy Program and meet members of the team at our Resident Art Show and Open House on Sunday, Sept. 9, from 2-4 p.m. Desserts and refreshments will be served. For more information, call 314-384-5233.