Parc Provence Voyce Nominations

Achieving Excellence
Parc Provence offers its residents the best in memory care, and we're grateful to every member of our care team for the commitment and compassion that makes this possible. Two of our team members, Stephanie Bobcik and Ilyes Hayder, exemplify these characteristics and recently were nominated for the 2019 VOYCE award.
VOYCE is a nonprofit organization offering advocacy services to people in the St. Louis area and northeast Missouri who are residing in skilled nursing, assisted living, and residential care communities. The organization's mission is "to educate and empower persons and their families for quality living across the continuum of long-term care."
We invite you to meet our nominees:
Stephanie Bobcik
Nominee for Caregiver of the Year
Though Stephanie Bobcik works at Parc Provence as a certified music therapist, the role she has created for herself is much more expansive. Within our community, Stephanie also serves residents and colleagues alike as a friend, a confidante, and a leader. She has a reputation as a comedian – and is the shoulder many of our residents and their families lean on when life is hard.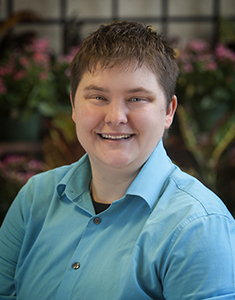 Stephanie's expertise as a music therapist qualifies her to work with people in all stages of dementia. During therapy, her goal is to create beautiful moments of great happiness for people afflicted with a condition that can diminish memory and pleasure. She is keenly aware of the many challenges our residents – and their families – face, and she manages these with grace, compassion, and confidence.  A family member recently said that when she observes her mom in a music therapy session with Stephanie, she can feel that "life is still good, that grace is real and possible, even in the throes of Alzheimer's."
In addition to her work as a music therapist, Stephanie makes a point of meeting every new resident who arrives at Parc Provence, offering a welcome that includes family members and loved ones. Working in this capacity, she helps new residents make the transition to their new home, offering comfort and support at a time that can be hard for all involved. It's certainly true that when residents move into our community, they also move into Stephanie's heart.
Ilyes Hayder
Nominee for Caregiver of the Year
In 2011, Ilyes Hayder moved to St. Louis from Tunisia, where he had served as secretary to the country's ambassador for six years. He holds a Bachelor of Arts degree in history and has written a book about the history of the Berbers. In addition to speaking more than 15 Arabic accents, Ilyes is fluent in seven languages. These facts alone make him a rather remarkable man. Even more remarkable is his choice to make a difference in people's lives by working in the field of health care, specializing in supporting people in the later stages of Alzheimer's disease and dementia.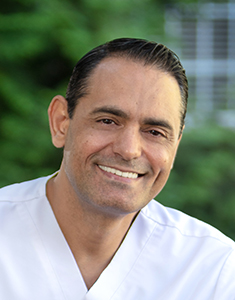 Throughout Ilyes' tenure at Parc Provence, he has exhibited an unwavering commitment to residents and their families. He offers patience in the face of difficulties and a positive attitude and friendly face to residents and co-workers alike. His willingness to do more than is expected benefits our residents, visitors, and the Parc Provence care team. And his obvious enthusiasm for his chosen career makes all of our lives better.
In fact, a resident recently said Ilyes has a "great warmth of a smile, and we all loved him from the start!" This woman thought so highly of Ilyes she wrote a poem to honor the ways he has affected her life.
Ilyes, with his calm and quiet demeanor, attention to detail and his commitment to meeting the needs of residents and their families, has changed lives. Though his work badge reads "Resident Care Specialist," Ilyes serves Parc Provence in countless ways.Join us in congratulations
Join us in congratulations
Both of this year's VOYCE nominees help Parc Provence offer residents the best in memory care. Both have enhanced the lives of our residents and their families. We are proud of them and their achievements and hope you will join us in congratulating them for this nomination.
VOYCE has served the St. Louis and the surrounding areas for more than 30 years, helping to ensure the quality of life for people living on the long-term care continuum.
VOYCE will announce award winners early next month.