Spotlight: Q&A with Parc Provence's Art Therapists
Spotlight: Q&A with Parc Provence's Art Therapists
Art as Therapy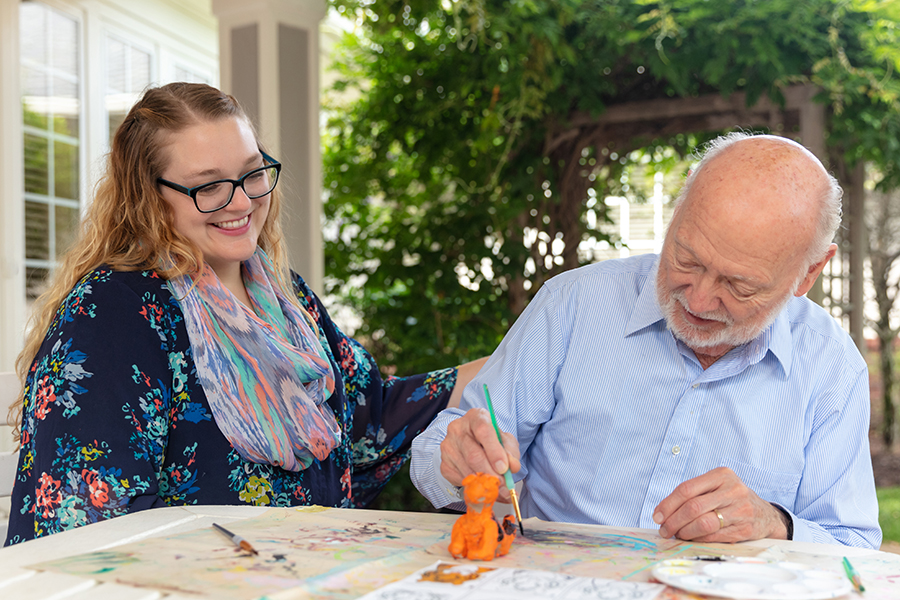 Recently, we talked with Laura Schmid, ATR-BC, LPC, and Ashley Ramm, MA, PLPC, about their careers as art therapists. Laura and Ashley lead therapy programs at Parc Provence, using the process of making art to enhance quality of life, offer opportunities for socialization, and access memory. We're grateful for their expertise and compassion, and thought you might enjoy getting to know them.
What is your professional background?
Laura: I'm a Board-Certified Registered Art Therapist (ATR-BC) and Licensed Professional Counselor (LPC) with a Masters of Art degree in art therapy counseling from Southern Illinois University Edwardsville. I've worked with adults and adolescents in an inpatient psychiatric setting, as well as with children and adolescents who have behavioral and emotional difficulties. After I completed my master's degree in 2007, I joined Parc Provence as its first full-time art therapist and was responsible for developing its art therapy program. For more than a decade now, I've used art therapy to help treat older adults in memory care. I have recently became Board Certified and a post graduate licensure supervisor to continue growing as a professional.
Ashley: I'm currently a Provisionally Licensed Professional Counselor (PLPC) and will attain art therapy licensure during the fall of 2019. To become licensed and credentialed as an art therapist, one must complete 100 hours of post-master's degree supervision and 1,000 hours of experience in the art therapy field. I have a Masters of Art degree in Art Therapy Counseling from Southern Illinois University Edwardsville, where I graduated in 2017. I've worked with older adults since 2012 in a variety of settings, including community centers, nursing homes, adult day centers, and churches. My professional experiences also include facilitating therapy with specific adult populations with developmental disabilities and traumatic brain injuries. I also have extensive experience working with children and adolescents in schools and community-based settings, with a focus on autism spectrum disorder and behavioral disorders.
Why did you choose to work with older adults in the field of memory care?
Laura: When I was in graduate school, I participated in a semester-long internship at Parc Provence and immediately fell in love with the organization and the residents. The older adults are so loving and have so much experience and wisdom to share. I believe that working with people who are nearing the end of their lives is a gift. I love being able to offer joy, comfort, and learning to our residents and their families during a time that can be lonely or frightening. There's something very special about being a witness to a person's life history and helping find meaning and purpose in the life that has been lived.
Ashley: I was first drawn to the older adult population while pursuing my undergraduate degree at the Milwaukee Institute of Art & Design. At that time, I worked as a volunteer in a group home for adults and seniors and was moved by the impact art had on their ability to process and cope with difficult emotions. Art-making brought self-awareness, a sense of hope and an ability to persevere through life's obstacles. I was also honored to witness individuals using art as a vehicle for telling their life's stories and then sharing those stories with the community through a public art gallery. I have been drawn to those same types of experiences with memory care. I value the opportunities I have to serve as a witness as seniors embark on new chapters, continually learning and re-defining themselves through art-making and storytelling. What I enjoy most about memory care is how art-making stimulates playful experiences that promote a strong therapeutic relationship between the resident and the therapist. That relationship helps support residents as they each transition into the sacred last stage of the end of life.
How would you describe art therapy to those who may be unfamiliar with it?
Laura: Art therapy is a therapeutic practice that doesn't rely only on verbal processing and communication. Art therapists strive to create a safe, inviting environment so that participants feel comfortable sharing and exploring thoughts and feelings. It is adaptable and can be tailored for anyone, at any age, with any level of ability. It integrates the creative process with models of counseling and psychotherapy. During a session, the process of making art is therapeutically applied and individualized so that each participant can work toward an established goal. The focus of art therapy is the process itself, which is purposeful and meaningful. The outcome is not necessarily the main focus of a session. Just as in traditional counseling, we offer both individual and group experiences designed to improve and restore a person's functioning and sense of well-being.
Ashley: Art therapy is a mental health profession that helps clients improve or maintain cognitive health and emotional well-being. It does so by using art-making as a method for communication. In many ways, an art therapist is like a traditional talk therapist or counselor, except the therapist uses art-making as a therapeutic intervention to assist the client in achieving certain goals. An art therapist provides a safe, confidential space in which the participant can untangle issues and complex feelings and make a new understanding of them. The art object made during a therapy session helps facilitate discussions that encourage further self-awareness and bring the client closer to achieving personal goals.
Why use art therapy?
Laura: Art therapy and a traditional art class differ in that art therapy uses the therapeutic and goal-oriented application of art to achieve specific outcomes. An art class may simply focus on learning a specific skill and making a specific object, which makes the session or class product-oriented. Art therapy, on the other hand, is process-oriented. It is individualized to meet a person's specific therapeutic treatment goals; as such, it goes beyond the act of creating an art piece. You don't have to be an artist to participate. At Parc Provence, residents achieve several therapeutic benefits and outcomes when they participate in art therapy services, including increased confidence and self-esteem; diminished depressive symptoms; improved relaxation, attention span, pain management, self-awareness, and independence. Art therapy also helps participants process life changes, and it enhances quality of life and a sense of well-being.
Ashley: A resident or family might choose art therapy over traditional counseling when the process of talking about one's feelings is uncomfortable or difficult to do. An art therapist will still facilitate counseling, but the session is conducted in a non-intimidating way, using whatever expressive communication style they need. Art therapy is beneficial for people at all stages of dementia, and its goals can be adapted to whatever needs are present. For example, a resident with early-stage Alzheimer's may need help managing a perceived loss of independence following a move to a residential lifestyle. Or may need help redefining a sense of purpose in life while living in long-term care. During the middle stage of the disease, a resident may need in-the-moment support and intervention to cope with times of distress and confusion. Someone in the late- or end-stage may benefit from relational support through sensory and tactile stimulation to maintain a sense of well-being and quality of life.
How is art therapy applied at Parc Provence?
Laura and Ashley: Art therapy has a significant impact on the brain. It can provide simultaneous visual, auditory, and sensory stimulation, making it a holistic treatment approach that engages all five senses. The art process elicits emotions through memory recall. It also encourages socialization, uses motor skills, promotes planning, and helps participants make associations. And all these activities help stimulate and maintain cognitive functioning. When you are using art materials, you are using your sense of sight to see colors, patterns, and images. You are using your sense of touch to feel different materials and manipulate them. You are using problem-solving skills as you select colors and materials, think about placement, and follow instructions. The act of seeing and recognizing images allows the brain to draw connections between emotions, memories, and life experiences, making the process emotionally and cognitively stimulating. The primary role art therapy plays at Parc Provence is to enrich and enhance the quality of life for our residents. Parc Provence uses a unique, holistic, activity-based model of care that encourages residents to function at their highest possible level and to maintain their functional abilities for as long as possible.
How do you tailor sessions to align with the abilities and interest of each resident?
Laura and Ashley: Each session is designed to meet each resident's personal and artistic interests. Our emphasis is on identifying each resident's strengths, areas of opportunity for growth, and existing abilities. We want the process of art-making to be enjoyable and meaningful or everyone. We use interviews with staff and with family members to help us learn about each resident, to uncover likes and dislikes, and formulate workable treatment goals. We can apply a broad variety of art therapy applications and materials when working with residents from the early stages of memory loss to hospice support, offering extended guidance and relational support.
What is your favorite part of art therapy?
Laura: Being the person to help someone tap into their creativity and make a connection with themselves and others is pretty amazing! Our sessions are often full of curiosity, playfulness, joy, and laughter. During each session, I get to take an adventure with our residents. Sometimes I follow their imagination, other times, they take me on a review of the lives they've lived. When people express themselves creatively, some of those feelings transfer to the object being made. The creation is imbued with those feelings, making the process a cathartic experience. We all feel strong emotions at times; art therapy often provides perspective and immediate relief. And the resulting artwork offers the maker a chance to take a step back and gain new insights. Art is wonderfully powerful.
Ashley: I am passionate about art therapy because it gives a voice to those who are unable or afraid to share their story. Art created during art therapy empowers and inspires the individual and those around them to persevere. Art spurs newfound understanding and, most importantly, helps build connections between people. Those connections and relationships are what make life worth living, and art can serve as the mediator for building them.
Visit the 2019 Art Exposition resident artwork with the theme "Remember Me": https://www.parcprovence.com/artexpo/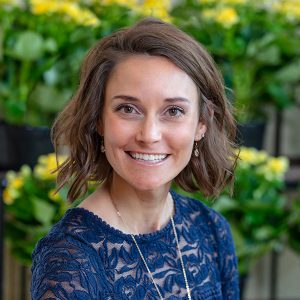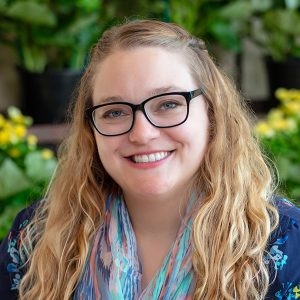 To learn more about how Laura, Ashley and other staff members at Parc Provence can serve your loved one with industry-leading Alzheimer's disease or dementia care, please call 314-697-2081. We would love to schedule your personal tour.