Spotlight: Q&A with Parc Provence's Director of Activities
Lauren Tyree Has Held the Position Since 2015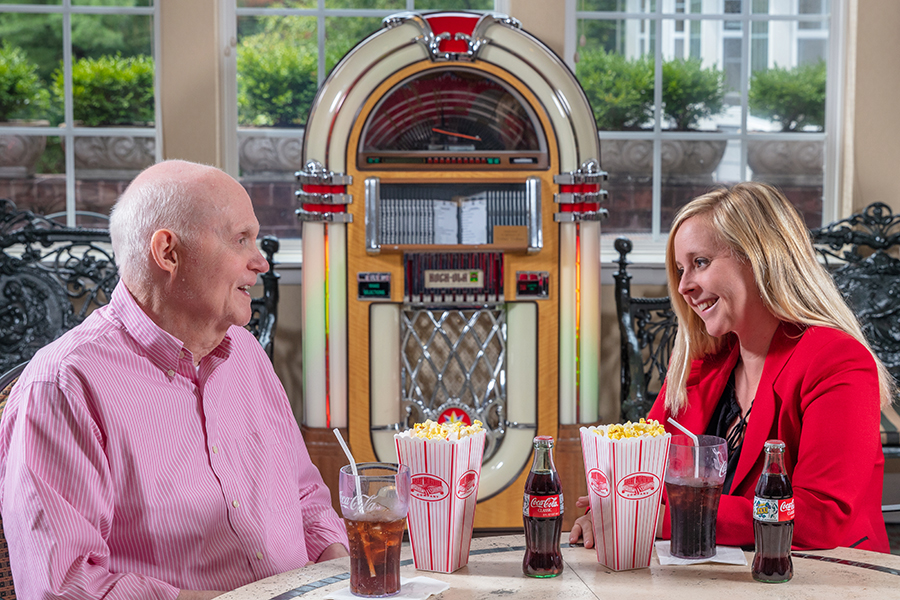 If you take a look at Parc Provence's activity calendars, you'll quickly conclude that Lauren Tyree is pretty busy. And she is. We recently sat down with our director of activities for a conversation so you could get to know her a little better.
What are the requirements and responsibilities of your position?
At Parc Provence, we require a bachelor's degree in a related field or at least five years of relevant activities and supervisory experience. Responsibilities vary from day-to-day. I oversee all of our activity programs, making sure our offerings meet all of our residents' interests. I also supervise the 30 staff members who help make our activity programs happen. And I also help with odds and ends. I organize our Employee Appreciation Month, Employee Wellness Fair, and Employee Holiday Party.
How would you describe your typical day?
I don't have a typical day. Every one of them is different.
What is the most rewarding part of your career?
I'm so grateful to be a part of our residents' lives. I learn so much from them by listening to their stories, and from getting to know them through their families.
What are the most significant benefits of an active lifestyle for older adults, especially those with memory loss?
I believe an active lifestyle has the potential to minimize the progression of cognitive diseases. We encourage residents to be involved in an activity program – as well as maintain the daily activities of life – so that they can retain their strength and independence for as long as possible. The old saying "if you don't use it, you lose it" is so true for people with dementia.
How do you determine what activities to offer?
When a new resident joins our community, we ask their family members to complete a questionnaire we call "Forget Me Not." The questionnaire helps understand each resident's interests, former careers, hobbies, skills, and much more. This input helps us design activities to meet personal needs, interests, strengths, and skills. I design our program to include cognitive, physical, emotional, and spiritual activities throughout the year.
How does Parc Provence encourage and support health and wellness for residents?
One good example is our weekly chair yoga program, held on Tuesdays and led by a visiting yoga instructor. Advanced Exercise with Charlie, an upbeat exercise session, happens on Fridays. And a group called Vitality Ballet visits regularly to offer ballet classes and programs called Dancing Through the Decades and Chair Line Dancing. We also offer daily exercise programs for residents, with movements tailored to fit each resident's cognitive and functional abilities.
How do you communicate with residents and their family members?
I think it's important to make communication with family members as comfortable and easy as possible. When someone calls or emails with a question, I know they want a quick and honest answer. And I make time every day to talk with our residents and their visitors and family. Parc Provence is a community where we know each other's first names.
What drew you to working with older adults in the field of memory care?
When I was a little girl, my twin sister and I were very close to our grandparents. My mother's parents took care of us during the day while my parents worked. They took us with them on vacations, made special bingo nights for us and visited lots of St. Louis attractions with us. I started working at a retirement home, in the dining services department, when I was 15 years old. And I worked in housekeeping, resident care, and activities. When I found out it was possible to earn a degree to be an activities director, I knew that was for me. While a student at the University of Central Missouri, I also volunteered at the local veteran's home and ended up maintaining correspondence with a resident who was 102 years old. I have always enjoyed working with older adults. It's like I have hundreds of grandparents!
When did you join Parc Provence, and what attracted you to the community?
I joined the team in 2013, first as activity team leader than as an assistant activity director. I became our director of activities in 2015. I chose Parc Provence because its activity programs are so varied and diverse. We have something for everyone. And the large team of people involved in our programs speaks to our commitment to health and well-being for all residents. I'm also proud of our art and music therapy programs, which are so beneficial. And the homelike feeling at Parc Provence is another important asset. It's comfortable here, for residents and staff alike.
To learn more about how Lauren and other staff members at Parc Provence can serve your loved one with industry-leading Alzheimer's disease or dementia care, please call 314-697-2081. We would love to schedule your personal tour.