Spotlight: Q&A with Parc Provence's Music Therapists
Studies Show How the Program Can Improve Quality of Life for Seniors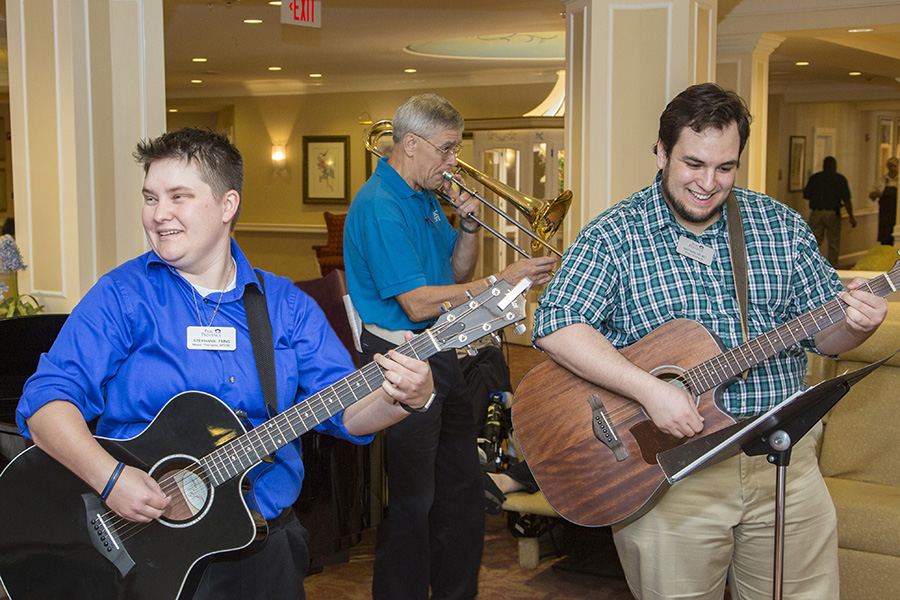 Music therapy is an evidence-based clinical use of musical interventions. It has been known to improve the quality of life for individuals of all ages, particularly those with dementia or Alzheimer's disease.
Parc Provence has two board-certified music therapists, Stephanie Bobcik and Nathan Avilez, who lead sessions daily. The program is tailored to the interests and needs of residents. To help in getting to know Stephanie and Nathan better, we asked them these questions:
What is your professional background?
Stephanie: I have worked mostly with the geriatric population, focusing on residents with Alzheimer's disease and dementia. I have also done clinical rotations in settings such as hospice, psychiatric, and special education.
Nathan: This is my first full-time music therapy job. While earning a bachelor's degree in music therapy, I worked in special education, forensic psychology, hospice care, and memory care.
What drew you to working with older adults in memory care?
Stephanie: I have always enjoyed working with older adults, particularly in the field of memory care. I volunteered to play piano at local nursing homes when I was younger. I was able to see how much music helped the residents and was drawn to the field as a career choice.
Nathan: I think music plays an important role in most people's lives. Our communities, cultures, and identities tend to form around music. During our music-therapy sessions, I'm helping our residents retain and further explore their identities. Who they are as people is closely tied to music. Learning about them, their memories, and their experiences is a beautiful thing.
How would you describe music therapy to those who are unfamiliar with it?
Stephanie: Music therapy is the use of music to address the needs of individuals or groups using a variety of techniques and activities. Those needs can be emotional, social, cognitive, or physical.
Nathan: Music therapy is the clinical and evidence-based use of music interventions by a credentialed music therapist to address a person's psychosocial and physiological needs within a therapeutic setting.
Why use music therapy?
Stephanie: Music has been shown to affect different parts of the brain. Music therapy is a non-invasive and non-threatening approach to therapy and meeting goals. It has social components along with clinical components that provide a relaxing environment for music-therapy participants. It promotes enjoyment and quality of life while also addressing physical and cognitive goals. It provides a safe environment for everyone to interact.
Nathan: As music therapists, we're able to use music's unique psychological and neurological qualities to holistically address therapeutic needs. Music therapy interventions don't just meet clinical goals, they provide an approachable and enjoyable experience for the resident.
How is music therapy specifically applied at Parc Provence?
Stephanie: Our sessions are tailored to fit each resident's individual needs while meeting social goals and providing relaxation for residents. We provide opportunities to reminiscence as well as opportunities to promote physical wellness, active engagement, and social interaction. This all takes place while providing a person-centered approach to each resident.
Nathan: Music is neurologically complex. Whenever we listen to or participate in music, we're are using our entire brain. Sequencing, tonality, timbre recognition, emotional response, and gross and fine motor skills are all things related to music. Our brain is processing all of these different elements when listening to music and making connections between them through a process called neuroplasticity. Because of these connections that bridge every part of our brain, musical memories are often spared when memory loss occurs. Our strongest musical memories are the songs we loved when we were growing up, particularly as teenagers and young adults. We try to use music that our residents listened to during those formative years to help them find connections to their past.
How do you tailor the sessions to the abilities and interests of each resident?
Stephanie: Parc Provence provides person-centered care in all of our activities, especially music. We read profiles and information on our residents to learn their interests. We talk to them and their families to see what kind of music is preferred. We provide smaller special-interest groups like the Rock-N-Roll Club, Piano Club, Banjo Club, Grand Ole Opry, Resident Choir, etc. We get to know each resident and their family on a personal level and create programs that will be engaging and meaningful to everyone involved.
Nathan: We try to provide a broad selection of music groups to address the needs and interests of all residents. Besides our daily group music-therapy sessions, we also facilitate the clubs and specialty groups that Stephanie mentions above. We also collaborate with our art therapists to provide art and music groups.
Are family members allowed to join their loved ones at music groups and/or therapy? If so, do you have any good stories that can be shared?
Stephanie: Family members are always welcome to join us! Some families prefer to attend the groups, so we try to schedule those to fit their individual schedules. It's important to provide that interaction between residents and their loved ones. Music can often help them build a connection. I've done sessions where a resident may no longer communicate verbally, but will hold their loved one's hands, dance with them, or even sing to them. Music can be a form of communication and connection for residents and their loved ones. That's one of the best parts of being a music therapist. It's very rewarding for everyone involved.
Nathan: Yes, family members are encouraged to join us! It's a great opportunity to learn more about our residents from the people who know them best.
What is your favorite part of music therapy?
Stephanie: My favorite part is seeing the interactions and connections that take place. Our residents really seem to light up when music is involved, whether it's listening, playing instruments, doing activities, etc. In every form, music therapy brings out a connection between people and provides some amazing experiences and interactions that might not have been possible without the music. I've seen people who don't communicate much sing whole songs. I've seen residents with their heads down all of a sudden become alert and clapping their hands or dancing. Music is such a powerful, non-invasive tool. It just brings everyone together and creates a lot of positivity.
Nathan: I love seeing people's faces light up. Seeing our residents smiling and singing is one of the best parts of working here at Parc Provence.
For families with questions or individuals seeking more information about the benefits of music therapy, Stephanie and Nathan can be reached at 314-542-2500 or musictherapy@parcprovence.com.