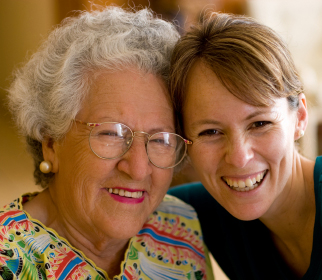 Tips for Supporting Your Loved One
Caring for a loved one who has Alzheimer's or dementia is always a work in progress, but can also be very rewarding. At Parc Provence, we are dedicated to Leading the Way in Memory Care, which includes not only our residents but also family and friends of those with dementia and Alzheimer's. Here are a few key tips for supporting your loved one.
Learn About Memory Loss
It is important to educate yourself about dementia, Alzheimer's or the specific type of memory loss. General knowledge of dementia can provide great insight in understanding changes as they occur and learning about effective ways to communicate with someone who has memory loss.
Build Your Support System
No one can do it all, no matter how hard we try. Support can come from friends, family, religion and other sources. At Parc Provence, we encourage families and friends to ask questions. We want to share our knowledge and provide support when needed. The Alzheimer's Association also provides a monthly caregiver support group, which can be a great place to connect with others facing similar situations to share struggles and triumphs.
Creating Moments of Joy
It is important to truly focus on creating moments of joy with your loved one. If they have always enjoyed spending time outside, go outside with them. Encourage any activities that bring them happiness. The joy and smiles, even if only for a moment are worth cherishing.
If you have questions about our Person-Centered memory care or would like to schedule a tour of Parc Provence, please contact us today.