An Overview of Music Therapy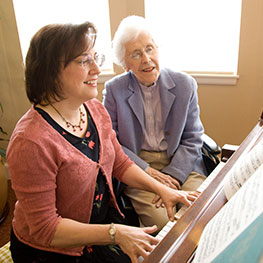 An Overview of Music Therapy
Think of the way the words to your favorite song come back to you even if you haven't heard the song for quite some time. Remember nursery rhymes or even the ABCs, and consider how having the information set to music helps with memorization and recall. Are there certain songs that transport you back to a certain place or time when or where that tune played an important role in a memory or event? Some people have a special knack for remembering song lyrics but, on some level, music triggers brain activity in everyone. Scientists are working to leverage the power of music using music therapy – a tool we use for memory care at Parc Provence.
Music Therapy in History
Music as a form of therapy is not a new concept; history shows us that ancient Greeks believed music could help with mania, depression and hangovers. Similarly, Native Americans have historically used songs to calm, heal, and soothe. Musicians have long been employed to comfort injured soldiers at times of war. Ultimately, music proficiency and the combination of ideas from nursing, education, medicine, physical therapy, speech and language were combined to develop the first degree program for music therapy in the United States at Michigan State University in 1944. Since then, degree programs have expanded to include master's degrees and doctorates, as well as multiple designations including Certified Music Therapist and more.
Alzheimer's and Dementia Patients Benefit from Music Therapy
Music therapy offers many benefits to people who have Alzheimer's and dementia. Musical awareness is one of the last centers in the brain to be affected by dementia, making the therapy effective at all stages of the disease. Social behaviors, including improved conversational skills and increased interactions can be addressed using music therapy. Studies show music therapy can help reduce anxiety in memory care residents, as well as improve cognitive function and motor skills.
Parc Provence residents can enjoy music therapy as part of group opportunities or in private sessions arranged with our Certified Music Therapists. While this proven therapy stimulates the entire brain it also provides moments of joy, and that is quite possibly our favorite benefit.
Music Therapy Month runs during the month of June at Parc Provence. To learn more about music therapy and all of our Person-centered Care at Parc Provence, contact us today.