Art Therapy for Each Stage of Dementia
Art Therapy for Each Stage of Dementia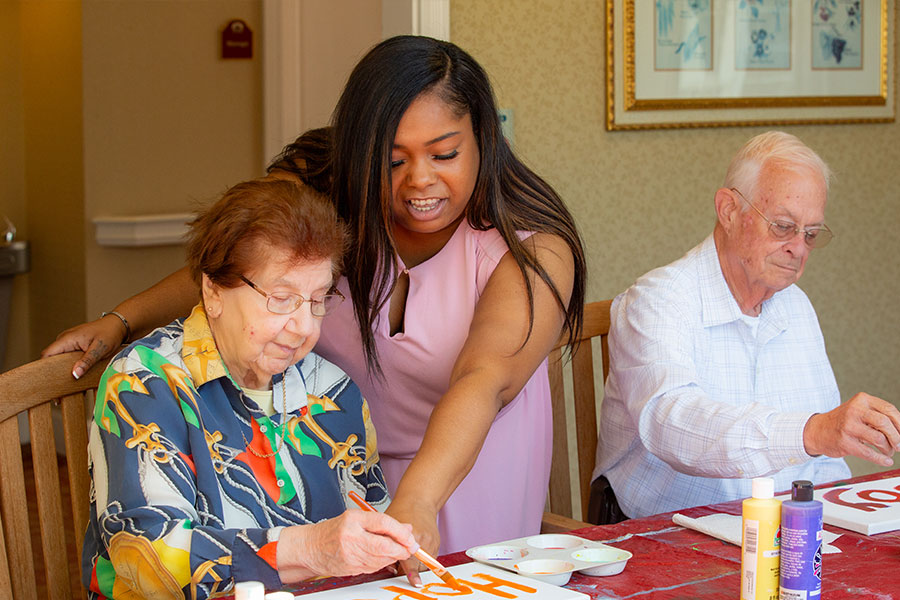 Art therapists use the creative process to work with people at each of the various stages of dementia and Alzheimer's disease. A productive art therapy session can help a person living with dementia achieve improvements in physical, mental, and emotional health.
Parc Provence employs two art therapists who use proven techniques to promote cognitive function and help combat depression. In individual and group sessions, they use art as a method of communication that reaches residents in unique ways, wherever they are in the continuum of memory loss.
Early stage
The art therapist works with the resident to establish personal goals for therapy. The resident explores thoughts and feelings through discussion and art-making. Sessions are tailored to meet the residents' specific needs and artistic interests.
At this stage, therapeutic themes include:
Processing the dementia diagnosis
Transitioning to life in a residential community
Understanding grief and loss
Exploring past traumatic events
Considering the challenges of daily living
The act of making art can help a person in the early stage of memory loss maintain or achieve short- and long-term memory recall.
Creative self-expression can help those who have difficulty expressing their feelings due to a diminished ability to speak or are uncomfortable verbalizing emotions.
Middle stage
Our art therapists work with residents to continue to explore themes similar to those addressed in the early stage of memory loss. However, at this stage, some residents may experience increased memory loss, confusion, and physical limitations.
During art therapy, the therapist may introduce specific themes or topics that address new limitations and help promote cognitive function. The act of making art can help maintain fine-motor control by exercising residents' hands and fingers through the manipulation of art materials.
Late stage
At this stage, art therapy may be used for tactile and sensory stimulation to increase attention span and socialization. For residents requiring assistance, the art therapist may use her hands to help guide a resident's hand movements.
Our therapists also offer other means of support designed to reduce anxiety and promote residents' sense of comfort within the physical environment. They also use sensory-stimulating art directives that can be especially helpful for residents with vision impairment.
End stage
Our specialists use art therapy at this stage to provide one-on-one support and offer residents a sense of comfort and companionship. Often, they use therapy sessions to increase awareness of the present moment through activities that encourage personalized reminiscing, singing, touch, storytelling, and other forms of sensory and tactile stimulation.
See for yourself
Help us celebrate the positive impact art therapy has on our residents. Join us on Sunday, Sept. 9, from 2 to 4 p.m., for our Resident Art Show and Open House. Desserts and refreshments will be served. Let us show you how art therapy can make a difference in the life of your loved one. Call 314-384-5233 to learn more.