Art Therapy for Quality of Life
Art Therapy for Quality of Life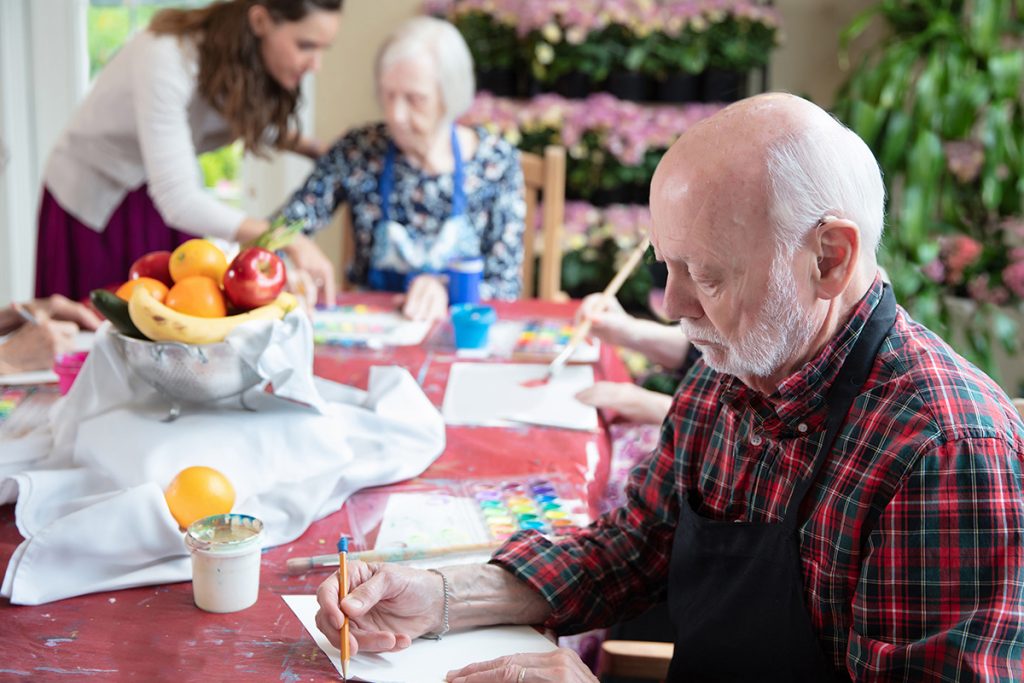 Because the act of making art serves as a method of communication and self-expression, it can be a valuable resource in the care of people with dementia.
When making art is used in this way, it is known as art therapy. And when art therapy is used in conjunction with memory and reminiscence activities, it offers our residents an opportunity to assign value to their life stories and memories, and share them with others.
Art therapists at Parc Provence use these kinds of activities to help residents add beauty to the world and find moments of joy in the process. And when words are no longer available, art can become a rich vehicle for self-expression. The goal for each resident is not to create a masterpiece, but rather to use art as a means of communication with others and a path to self-discovery.
Reaping the Benefits
The art therapy program at Parc Provence creates meaningful interactions with residents, who benefit physically, intellectually, and emotionally. Art therapy offers them:
Sensory stimulation
Increased self-esteem
Reduced depression and anxiety
Improved cognition, self-awareness, and sense of control
Increased socialization
Reduction in negative behaviors
Increased sense of dignity and purpose
Improved fine-motor skills
Enhanced quality of life
Method and Medium
Art therapists use the act of making art to create a safe, inviting environment that encourages residents to express ideas and emotions. During a therapy session, our specialists employ listening techniques and additional methods of communication to help residents feel accepted and understood. When an art project is complete, the object becomes a tangible record of an experience, acting as a record of thoughts and emotions.
Therapy sessions make use of a wide variety of art materials and mediums, including the following:
Painting and drawing. During an art-therapy session, a resident may draw from imagination, use an object as a reference, trace an image, or respond to a directive from the therapist.
Therapists use this method (assembling an artwork using provided objects) as a less intimidating way to approach the making of art.
Sculpture and ceramics. These media offer tactile and sensory stimulation to encourage self-expression.
Writing and storytelling. Our specialists use these methods to help residents record memories, ideas, and emotions. Writing also may serve as a form of life review.
Memory books and scrapbooks. A therapist may work with a resident to help assemble a tangible record that can be passed on to family and friends.
Learn More
The team at Parc Provence uses proven methods of treatment for people living with Alzheimer's disease, dementia, and other forms of memory loss. We offer personalized care, specifically tailored to meet the needs of each resident. We are focused on helping residents and their families make the most of each day.
We invite you to attend our Resident Art Show and Open House on Sunday, Sept. 9, from 2-4 p.m. This is a great opportunity to learn more about our Art Therapy Program and meet members of our team. Desserts and refreshments will be served. Call 314-384-5233 for more information.