Taking Steps to Reduce the Occurrence of Dementia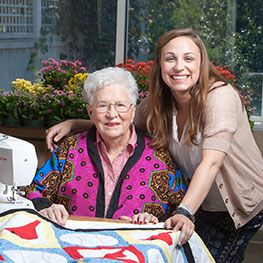 Taking Steps to Reduce the Occurrence of Dementia
We often hear about medication and treatment to help people who have dementia. However, recent research highlights non-pharmacological interventions throughout life that may help reduce the occurrence of dementia. The information presented at the Alzheimer's Association International Conference (AAIC) indicates that management of certain lifestyle factors could prevent one-third of the world's dementia cases.
Lifestyle Factors Affecting Dementia Risk
The Lancet Commission on Dementia Prevention and Care presented nine risk factors in early-, mid-, and late-life that can increase the chance of developing the brain disorder. These risk factors account for approximately one-third of all dementia cases. At each life stage, addressing the following health issues can ultimately reduce the occurrence of dementia:
Early life: increase education and address any hearing loss
Mid-life: keep obesity and hypertension in check
Late life: treat symptoms of depression, stop smoking, increase socialization, and have plenty of physical activity
Mitigating these risk factors has shown great results. To read more about the study, click here.
Drug-Free-Treatment for Dementia
The Commission also studied non-pharmacological treatments for people who have dementia. The most promising results were with interventions addressing aggression and agitation. Medications commonly used to treat these concerns often have side effects that include infections, sedation, and an increased risk of cardiac events. Social, psychological, and environmental interventions used for these same concerns showed better results. Cognitive stimulation therapy and exercise even resulted in cognitive benefits for some participants. In short, the report supported social and cognitive therapy as a valuable treatment for dementia.
Parc Provence is Leading the Way in Memory Care
At Parc Provence, we have been providing stimulating, social therapies to benefit our residents for over 13 years. We work with residents, their families, and their trusted medical professionals to develop individualized, Person-Centered Care plans to bring out the best in everyone every day. Our entire staff is specially trained in memory care. From assisted living to skilled nursing, we provide the peace of mind and support families need.
If you or a loved one is interested in learning more about the finest assisted living with memory care in the St. Louis area, contact Parc Provence today. We would love to schedule your personal tour.