Art Therapy As a Form of Memory Care
Art Therapy as a Form of Memory Care
"Families of seniors in need of memory care look for education, support, and direction. And that is what we do here; we specialize in dementia," says Kathy Aragon, Administrator at Parc Provence.
"Dementia is challenging, not only for those diagnosed with the illness, but also for families struggling to understand the impact of this condition. Many of our families look for more than simply a memory care community when they are searching for answers and help for their loved ones," she says. Parc Provence's staff of experts has undergone extensive training in all aspects of dementia and Alzheimer's care. "We tailor every activity to our Residents' needs and interests," Aragon notes.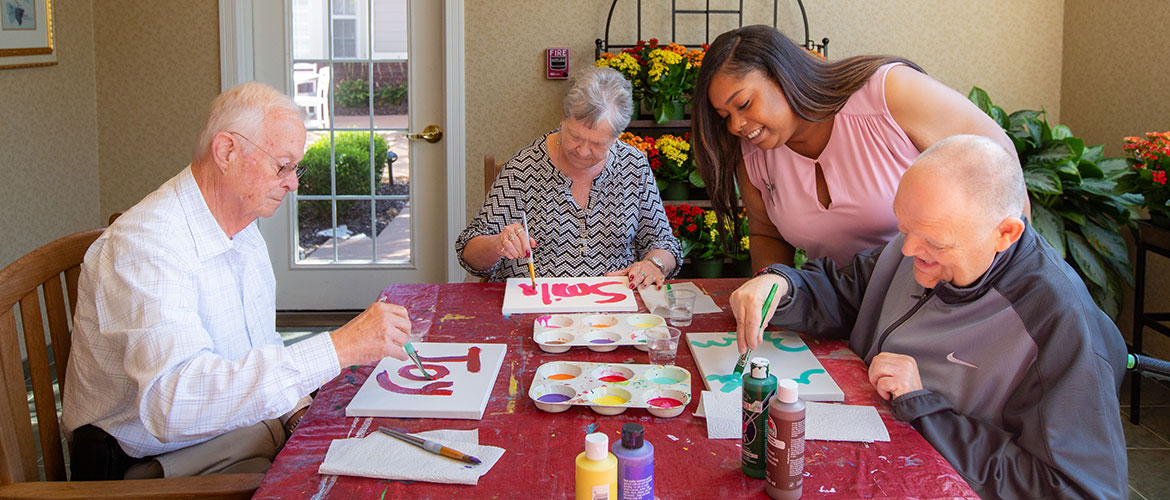 Art Therapy is just one of the many ways Parc Provence helps its Residents achieve their individual potential and enjoy each day to the fullest. Art Therapy, a form of psychotherapy, uses the creative process of making art to improve and enhance the physical, mental, and emotional well-being of Residents in all stages of dementia and Alzheimer's disease.
This kind of therapy is based on the belief that creative self-expression can help people resolve conflicts and problems, develop interpersonal skills, manage behavior, reduce stress, increase self-esteem and self-awareness, and achieve personal insight. When used by a skillful practitioner, Art Therapy integrates the fields of human development, visual arts — such as drawing, painting, sculpture, and other art forms—and the creative process with models of counseling and psychotherapy.
At Parc Provence, our two certified Art Therapists, Laura Schmid and Ashley Ramm, use proven techniques to promote cognitive function and combat depression. In individual and group sessions, they work with Residents to use art as an alternate means of communication that is of great benefit to Residents.
During therapy sessions, Residents create tangible art works that act as permanent records of personal meanings, experiences, and feelings. And this process benefits families, as well. Art Therapy focuses on meaningful interactions that help alleviate fear, anxiety, pain, depression, and other stressors. Art Therapy is process-oriented and is individualized to meet specific treatment goals beyond simply completing an art piece. It draws on each Resident's memories. It places value on personal stories, personal experiences, and personal memories making them meaningful to others.
Art Therapists use varying themes and directives to stimulate Residents' cognitive function, thereby helping them maintain or even increase short- and long-term memory recall. In some Residents, Art Therapy helps expand attention span, too. During the process, Residents form new relationships and learn new ways to express themselves.
"The main role Art Therapy plays is to enrich and enhance the quality of life in our Residents. Parc Provence has a unique, holistic activity-based model of care where we strive to have our Residents function at their highest possible level and to maintain their functional abilities for as long as possible," according to Laura Schmid, ATR, LPC, Art Therapist at Parc Provence.
"Our emphasis is on identifying each Resident's strengths, areas of growth, and remaining abilities. We do this by offering many resources to help keep our Residents actively engaged and stimulated to best meet their individual needs. Art Therapy is one of the resources we offer," Schmid adds.
Research shows that socialization, engagement, and proven therapies such as Art Therapy are good for the brain. A community like Parc Provence, that offers therapies, activities, and onsite medical care is the kind of environment that can reach and improve the lives of people with dementia and Alzheimer's disease. Studies also show that early intervention can be beneficial to some types of dementia. Quality memory care gives people with dementia and Alzheimer's disease the opportunity to lead the most fulfilling lives possible. Parc Provence provides an innovative, supportive community in which this kind of care is valued and supported.
Parc Provence is hosting an Open House and Resident Art Show on Sunday, September 24, 2017, from 1 to 3 p.m. Appetizers and refreshments will be served. Guests are invited to visit Parc Provence, meet members of our team, and discover how we are Leading the Way in Memory Care. For more information, call 314-697-2081.