Continuing to Laugh with Your Loved Ones
Chuckles Are Important for Those with Dementia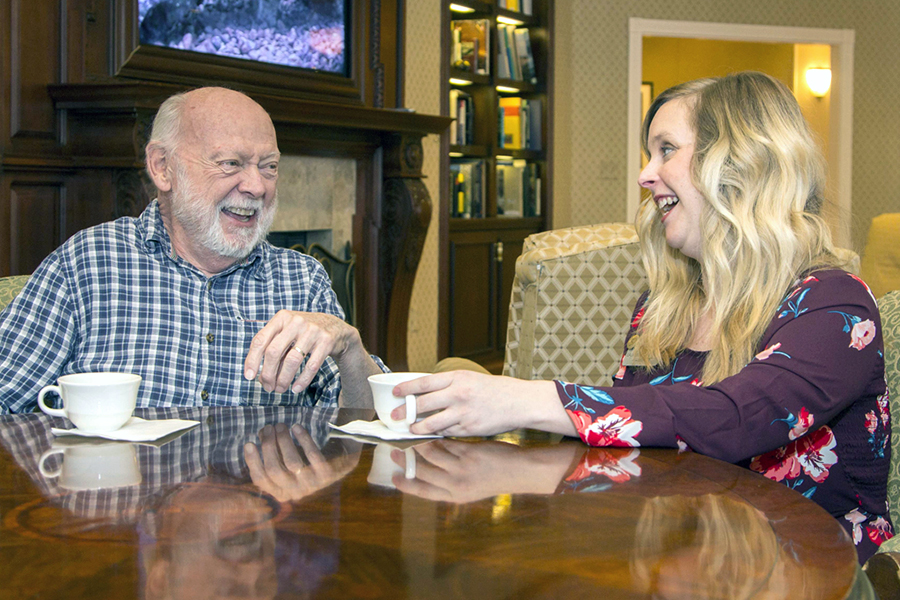 Those of us who care for people with Alzheimer's disease and dementia take our responsibilities seriously, but that doesn't mean we have to give up laughter. In fact, many research studies suggest that laughter — and the kinds of play and activities that generate lightheartedness while building and reinforcing skills — can make all the difference for caregivers and those they care for.
The website Alzheimers.net makes a good case for keeping laughter in your life, especially when coping with Alzheimer's. Though science has yet to find a cure for the disease, it has found that play, laughter, and an active life can help keep the brain engaged and busy growing new brain cells. And a healthy brain may stay that way longer, helping to prevent Alzheimer's.
The Benefits of Laughter
According to the Mayo Clinic, laughter can:
Stimulate the body's organs
Relieve stress response
Soothe tension
Improve the immune system
Relieve pain
Increase personal satisfaction
Improve mood
Caring for Those with Dementia
If you care for a loved one with dementia who is living at home, it's especially important to keep laughter and play in their life. Find time for some lightness even when events and circumstances seem heavy. Have lunch with the friend who's guaranteed to have a few funny stories to tell. Watch a favorite Netflix comedy. Spend time with the children in your family and engage in their play.
People living with dementia need laughter, though the path to finding it may change as the disease progresses. Reruns of a favorite sitcom might do the trick, or maybe the simple pleasure of folding towels and reminiscing will bring smiles. Favorite songs, familiar photographs, loved hobbies — any of these may bring laughter at the same time they reinforce memories and strengthen interpersonal relationships.
Laughter & Play at Parc Provence
We build laughter and play into daily life at Parc Provence, understanding the positive effects they have on the mental, physical, and emotional well-being for our residents, staff, and visitors. And because we understand that everyone is different, we ensure our very full calendar of activities, programs and social hours has something in it to fit each resident's interests, skills, and abilities.
Some of our residents enjoy playing games and the camaraderie they create. Others prefer gardening, dancing, or Cardinals baseball. The point in each of these activities is to encourage movement, mental and emotional engagement, and moments of pleasure.
Helping Residents Achieve Their Potential
Our art and music therapy programs are designed to help residents achieve their full potential while bringing a sense of accomplishment, fulfillment, and joy. It's a rare therapy session that doesn't include smiles.
We think all of us find that it's much easier to laugh when our needs are met, we are comforted by a sense of safety and security, and we feel important to ourselves and others.
The staff at Parc Provence designs each resident's treatment plan to offer these important elements so that each resident has every opportunity to find joy and laughter in daily living.
Schedule Your Personal Tour Today
For more information on Parc Provence or to schedule a personal tour, please call 314-697-2081. Our professional staff is happy to meet with prospective residents and/or their loved ones.