Keeping Active with Alzheimer's
Keeping Active with Alzheimer's
Alzheimer's disease is a complex disorder that can be difficult to navigate. Though, among the many ways of living comfortably with the neurodegenerative disease, living an active lifestyle can be among the most beneficial — both for individuals living with Alzheimer's and their caretakers.
The Advantages of Being Active
At Parc Provence, we foster an environment where residents are encouraged to live as actively as they choose to be, while always remaining engaged and interactive. We offer a variety of physical activities that keep people with Alzheimer's mentally and socially engaged. Even simple things like walking with a friend or taking a beginner's dance or exercise class can make a difference in a resident's life, mentally and emotionally.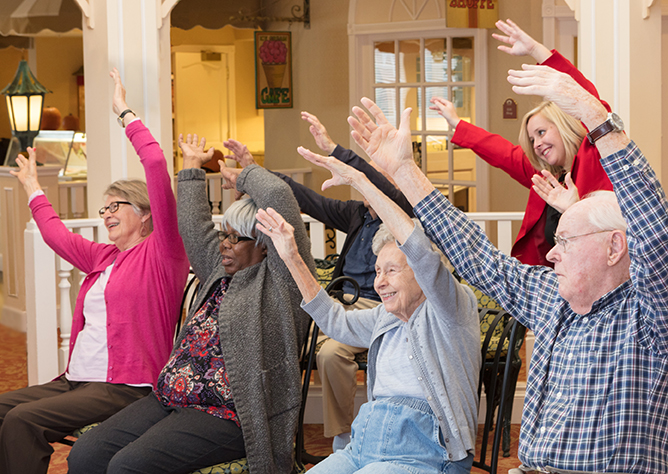 For caretakers, it's important to manage one's physical activity realistically, staying within the realm of their physical abilities and interests. Communication with the person with Alzheimer's is an important part of keeping them comfortable and safe while living an active lifestyle. We monitor all physical activity of residents so as to avoid discomfort, disorientation, or falls — a leading cause of injury among older adults. Engaging in safe, structured physical activity can improve strength and balance in seniors and reduce their risk of falling.
Happiness & Health at Parc Provence
Our residents' safety and comfort influence everything we do at Parc Provence. We monitor our residents' physical, mental, and cognitive health and abilities, with on-site medical staff available for checking residents' blood sugar, blood pressure, cholesterol, weight, and more. We strive to always keep our residents on the path to improved health.
It's never too late to adopt a healthy, active lifestyle. Making healthy choices at any age can be beneficial to one's well-being. Though it is important to consult a doctor before starting any new exercise program — just one reason why our licensed medical staff make updated progress reports on the physical and cognitive abilities and requirements of each of our residents regularly.
At Parc Provence, our talented, experienced staff is proud to offer our residents an active lifestyle conducive to personal growth, comfort, and fulfillment. To learn more about the many enriching activities and memory care services at Parc Provence, or to schedule your own personal tour, give us a call at 314-697-2081.