Starting the Conversation About Dementia & Alzheimer's
Starting the Conversation About Dementia & Alzheimer's Disease
Confronting Dementia
In many cases, when an individual is affected by dementia or Alzheimer's, they or their loved ones may put off seeking help or communal care as the neurodegenerative disease progresses — often until long after truly beneficial assistance can be provided.
In a recent CBS News report, husband and wife of 50-plus years, Mike and Carol Daly, provided intermittent interviews with 60 Minutes over the course of the last ten years as Carol has dealt with Alzheimer's disease. Over the course of a decade, Carol has gradually grown from being active, conversational, and attentive to being increasingly distracted, nonverbal, and ultimately unable to perform basic daily functions like putting on makeup, dressing herself, or even using the bathroom.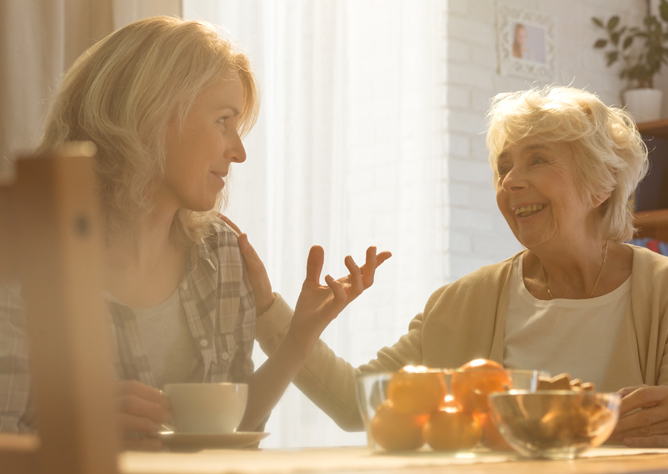 For Carol's husband Mike, playing the part of caregiver had grown from a loving commitment to his wife to a physically, mentally, emotionally, and financially demanding task that occupied every moment of his days. Eventually, Mike decided to bring his wife to a memory care facility, for both their sake. The stress of caring for someone who he once knew so well as a completely different person had grown too severe for Mike to continue living with. Now, Carol receives the 24/7 care she truly needs.
What Next?
According to the Alzheimer's Association, the vast majority of caregivers say their toughest challenge is emotional stress. Alleviating emotional stress from the lives of people with dementia and their caregivers is one of the primary reasons that memory care communities like Parc Provence exist.
Many caregivers like Mike Daly face similarly tough decisions when dealing with a loved one with dementia or Alzheimer's disease, though not all are aware of the many benefits of memory care communities like Parc Provence. We offer safety, comfort, security, and engagement for seniors affected by dementia or Alzheimer's and support for their loved ones. Parc Provence's primary goal is to make life easier and more enjoyable for our residents, their family, and their friends.
A New Lease on Life
At Parc Provence, we believe there is no substitute for human interaction. As a community of "well-being", Parc Provence offers extensive individualized small and large group programs, one-on-one visits, services, and amenities that are tailored to fit each resident's cognitive, social, and physical abilities. Our activities, events, classes, and therapies are designed to stimulate and engage individuals at all levels of memory loss so as to keep aging minds optimally healthy.
Our residents are served by specially trained nurses, therapists, and other experienced members of our caring staff, including our medical directors who lead their industries in gerontology and memory care. Dr. David Carr of Washington University in St. Louis oversees the entire medical program at Parc Provence to ensure our residents live fulfilling lives. Parc Provence provides 24-hour nursing care seven days a week, supervised by a full-time registered nurse. We have the highest staff-to-resident ratio in the industry for both daytime and evening shifts, including weekend and holiday service.
Parc Provence's various households are structured according to cognitive, physical, and social abilities, so as to best tailor care management, activities, dining, and various other amenities and care practices. We offer residents a diverse variety of daily activities, events, presentations, and therapeutic offerings — each specifically designed to fit residents' abilities and needs. Everything Parc Provence does revolves around residents' comfort and engagement.
Come See For Yourself
Though Parc Provence welcomes individuals of all cognitive abilities, we encourage the loved ones of individuals with early onset dementia or Alzheimer's disease to visit Parc Provence and learn more about the work we do every day,  in an effort to proactively manage their loved one's memory loss as it progresses.
At Parc Provence, our talented, experienced staff is proud to offer our residents an active lifestyle conducive to personal growth, comfort, and fulfillment. To learn more about the many enriching activities and memory care services at Parc Provence, or to schedule your own personal tour, give us a call at 314-697-2081.