Living with Later Stages of Dementia
Living with Later Stages of Dementia
A Community for All Cognitive Abilities
Parc Provence provides a home-like environment for individuals of all cognitive abilities to receive the care and attention needed to truly thrive. With assisted living, skilled nursing, and industry-leading memory care services available to all residents, Parc Provence employs a multi-talented staff of medically trained professionals to oversee every aspect of residents' care, comfort, and enjoyment.
Parc Provence also employs a wide range of therapy offerings for residents, including art, music, and pet therapy. We pride ourselves on employing an experienced team of care professionals who can engage residents of all cognitive abilities, including those with advanced dementia.
Dementia is a fickle and frustrating cognitive disability that affects both its hosts and their loved ones. From learning to cope with early-onset dementia to preparing for advanced stages of the disorder, knowledge is an essential ally when living with dementia.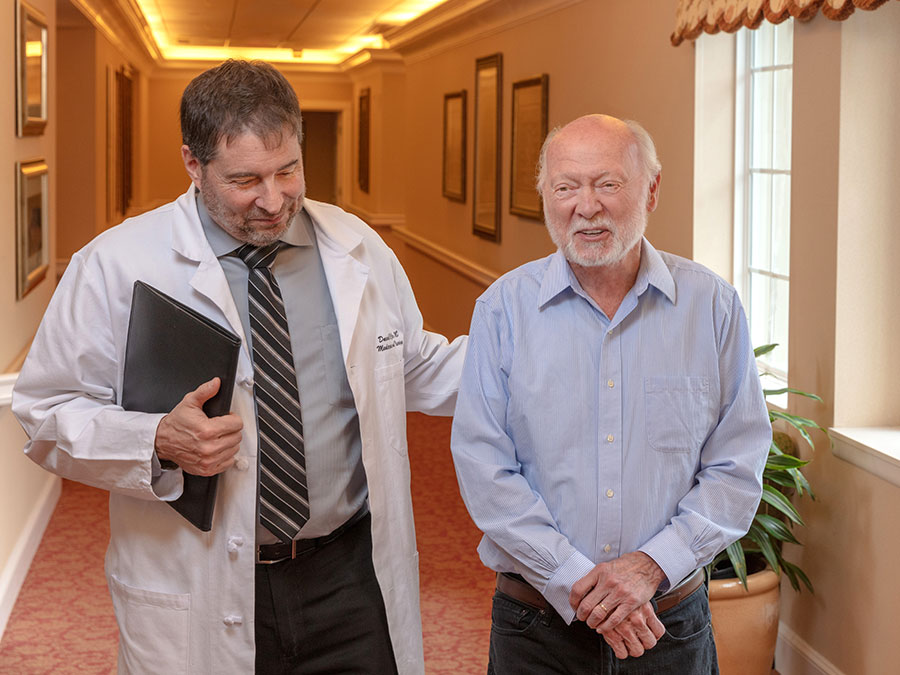 Dealing with Dementia
The later stages of dementia can leave a person in a frail mental, emotional, and physical condition. Everyone experiences dementia in their own way, but by achieving an understanding of potential struggles to come, caregivers can help manage setbacks and provide comfort throughout the disease's development.
Severe memory loss and organizational difficulties are among the most common symptoms of advanced dementia, though difficulty communicating or making plans and changes in behavior are also common.
People with advanced dementia might believe they're living in a past point of their life, or confuse loved ones with others they've previously known. Though, they may find comfort in engaging in favorite activities or hobbies of their past. When communicating with someone with advanced dementia, it helps to maintain eye contact and aid verbal communication with pronounced non-verbal clues like hand and facial gestures.
Advanced dementia can also have negative side effects on a person's physical condition by increasing susceptibility to falls, weight loss, or incontinence. However, even during advanced dementia, the benefits of regular (monitored) exercise far outweigh the risks. Physical activity keeps muscles and joints healthy while preventing bedsores or blood clots. Parc Provence ensures every type of dementia is treated with the most up-to-date medical treatment and therapeutic practices available.
To learn more about the later stages of dementia, visit this Alzheimer's Society article. To learn more about Parc Provence's many dementia and Alzheimer's care services and practices, or to schedule your own tour of our community, give us a call at 314-697-2081.