Social Seniors Enjoy Increased Happiness & Healthiness
Social Seniors Enjoy Increased Happiness & Healthiness
Keeping Residents Connected
As St. Louis' Leaders in Memory Care, Parc Provence strives to be the very best in every aspect of its services and care. From safety and security to a providing variety of gourmet meal options, we never accept anything less than the best for our residents. That's just one reason why we also invest so much into maintaining a fluid calendar full of socially engaging activities and events for residents. While many older adults can often fall victim to increased loneliness with age, Parc Provence acknowledges that continual social interaction is an important part of seniors' happiness and health.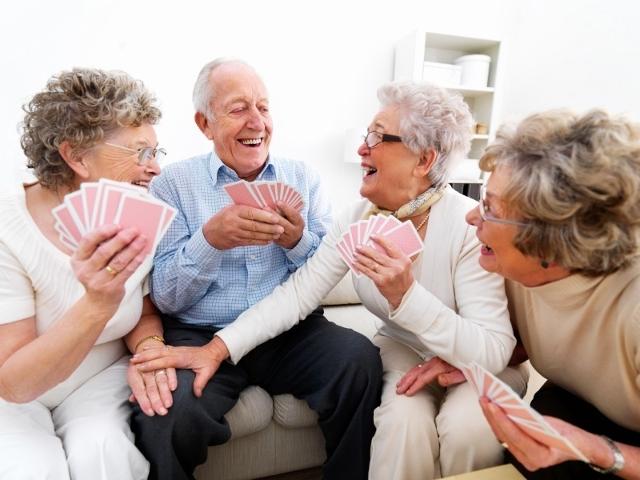 The Facts About Loneliness
According to an AARP study, over 4.26 million Americans 45 and older suffer from chronic loneliness. Though, it's important to understand the difference between social isolation and loneliness, as many seniors who experience loneliness aren't even alone in life. Loneliness is more subjective than isolation. Loneliness is one's perception of being left out or lacking in important relationships, even if they do actually have friends and family.
For seniors, medical conditions such as memory loss, loss of hearing, or troubles with mobility can make it difficult to socialize, and, subsequently, increase feelings of loneliness. And in many cases, loneliness can in fact become a health risk. Seniors who are isolated or lonely can have trouble with daily tasks like bathing or climbing stairs. Loneliness is also known to affect heart health and immune system strength.
Living Social at Parc Provence
Senior living communities like Parc Provence offer older adults a wide range of conveniences, including freedom from chores and cooking, access to transportation, and the assurance of medical care. Though perhaps the greatest available opportunity is to connect with others in a way that might not otherwise exist. At Parc Provence, we've created an environment where it's nearly impossible for residents not to experience social interaction at any given time of day.
Providing residents with an active, social lifestyle is a cornerstone of the Parc Provence lifestyle. Parc Provence boasts a wide variety of daily social activities and events. From dance classes to chair yoga to bingo, Parc Provence places a high premium on encouraging residents to live actively and socially. Because every moment matters.
Come See For Yourself
Some older adults who experience forms of cognitive decline choose to retreat from social obligations or personal relationships. These individuals should be informed or reminded by their loved ones of the many mental, emotional, and physical health benefits of maintaining a healthy social life. At Parc Provence, seniors are encouraged to make new memories and relationships. We invite you and your loved one to come visit Parc Provence and see for yourself the opportunities for social connection, among our many renowned memory care services.
At Parc Provence, we're proud of our ability to cultivate a lively, social environment where active seniors can truly thrive. Check out this article from Where You Live Matters about the importance of maintaining an active social life as a senior. To learn more about the many social activity and event opportunities we offer residents every day at Parc Provence, or to schedule a tour, contact us today at (314) 697-2081.