The Power of Music
Parc Provence is Hosting a Music Festival June 3-28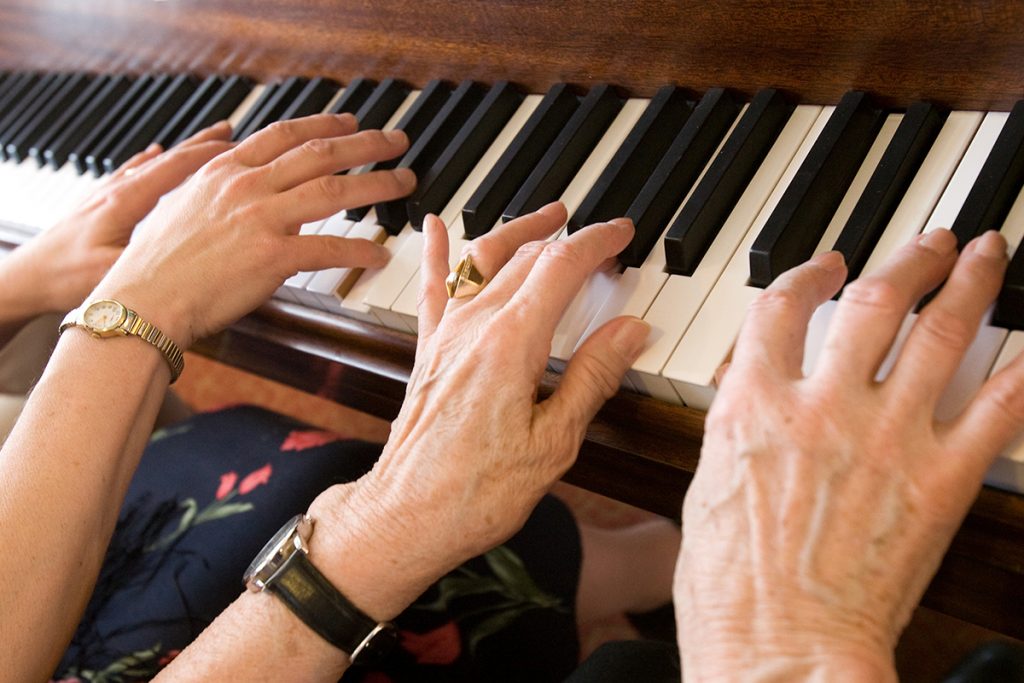 It's likely you've experienced the power music has to reach into the past and access a forgotten moment. Music tugs at the corners of memory, pulling up stories and images that become vivid in their recollection.
A Beatles song helps you remember the music store where you bought your first album. Cole Porter lyrics make you think of your father's appreciation of the Great American Songbook, which leads you to recall visiting your grandparents' home.
For many of us, music is part of the fabric of life, allowing us to connect with those we love, encouraging us to move and dance, and offering us moments of joy.
Parc Provence's music-therapy program works on much the same premise, using music to help our residents, who are affected by Alzheimer's disease and other cognitive disorders, reach into the past and ground themselves in the present, offering them opportunities for self-awareness, fulfillment, and happiness.
Because all of our residents are unique—each with different personality characteristics and degree of dementia—each participates in a music-therapy program that is tailored to specific needs. This kind of person-centered care also helps each resident fully engage, whether in a group or private session.
When working with residents who are in the early stages of cognitive disease, our certified music therapists use music to encourage participants to reminisce, socialize, move, and sing. These sessions help build a sense of community and significantly enhance the quality of life while offering insights about the past and present.
In later stages of the disease, music therapy can help participants maintain focus, grip, and dexterity as they use hand instruments to track rhythm. And music therapy helps residents with reality orientation, relaxation, and anxiety.
Music also can help family members make connections with their loved one. In a therapy session, a therapist might encourage family members and residents to sing familiar songs and talk about shared memories. Familiar music may help a resident become more aware of his/her surroundings and, in turn, more able to interact with visitors.
We use music every day at Parc Provence to help our residents maintain connections with the world around them. And this June, which is Alzheimer's & Brain Awareness Month, we're hosting our annual Music Festival June 3-28.
We hope you'll join us as we celebrate the ways music makes all our lives better. To learn more about Parc Provence—and our Music Festival activities—please call 314-384-5233.