Caring for Those with Vascular Dementia
Caring for Those with Vascular Dementia
The Condition Impacts Reasoning, Planning, Judgment & Memory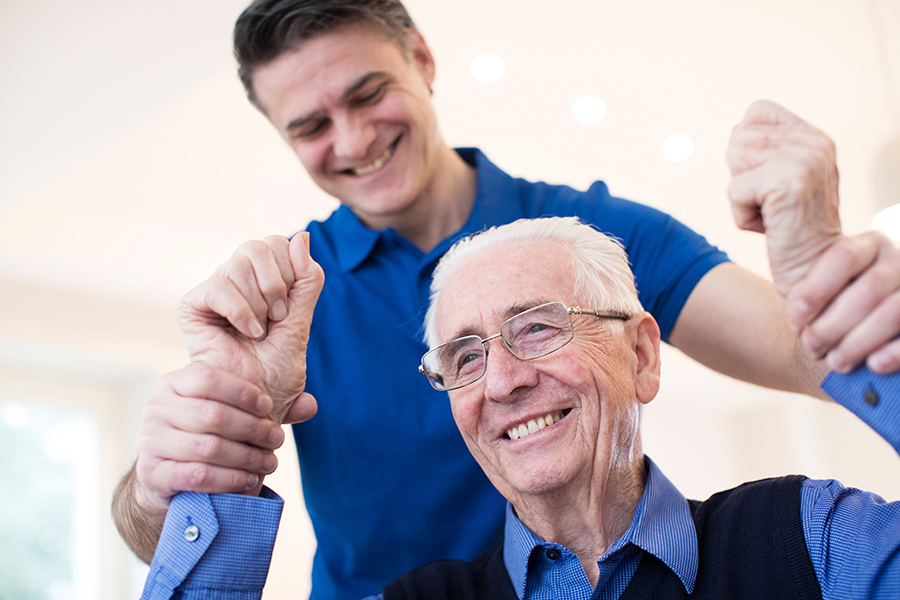 The questions are pretty simple, and millions of people are surely asking them.
What is vascular dementia?
How is the disease treated?
And who can care for those with it?
The good news is, as the St. Louis region's leader in memory care, Parc Provence can help. Parc Provence, a skilled-nursing community, offers its residents and their families exceptional care for all types of dementia through dedicated, person-centered support.
What Is It?
Vascular dementia is a general term describing problems with reasoning, planning, judgment, memory and other thought processes caused by brain damage from impaired blood flow to the brain. It can be developed after a stroke blocks an artery to the brain, but strokes don't always cause vascular dementia.
When blood flow to the brain is reduced or suddenly cut off, as it is during a stroke, brain cells are usually damaged and/or killed. Vascular dementia can be a result of the narrowing and blockage of small blood vessels inside the brain. It can also be that life-changing result after a stroke has taken place.
Worldwide, more than 50 million people have some type of dementia. And behind the well-known Alzheimer's disease, vascular dementia is the second most common form. In the United States alone, more than 16,000 people usually die each year from vascular dementia.
The list of dementia types is long and cruel. In addition to Alzheimer's and vascular, some of the more well-known conditions include Lewy body disease, Parkinson's disease, Frontotemporal dementia, Creutzfeldt-Jakob disease, Wernicke-Korsakoff syndrome, Normal Pressure hydrocephalus and Huntington's disease.
Every form includes cognitive decline and/or brain disorders, but each type is slightly different. For example, Alzheimer's disease usually leads to trouble speaking and walking. Vascular dementia, on the other hand, typically forces vision problems and sometimes even hallucinations. Each case has to be dealt with differently.
How Is It Treated?
There are currently no drugs specifically approved to treat vascular dementia. However, clinical trials show that some Alzheimer's medications may offer benefit to people who have the unfortunate condition.
The best course of action is to control risk factors that may increase the likelihood of damage to brain vessels. That can postpone or prevent additional damage to the brain, and it can improve outcomes as well.
Scientists and neurologists have known for some time about the genetic risk factors for Alzheimer's disease and vascular dementia. What's new is the notion that the presence of vascular disorders such as high blood pressure and heart disease may also be significant contributing factors.
Recent research has revealed mechanisms that cause damage to the brain's vascular network which leads to neurodegeneration. And further, the link between vascular dementia and Alzheimer's indicates that exercise, a line of prevention for cardiovascular diseases, may also help prevent the disease.
When encountering vascular dementia, it's highly recommended to assemble a plan by working with a doctor or medical professional. Parc Provence's team members can certainly help facilitate that conversation. Other tips include:
Eating a healthy and balanced diet
Maintaining a healthy weight
Keeping healthy blood pressure and cholesterol levels
Controlling blood sugar
Logging aerobic exercise time
Limiting alcohol consumption
Not smoking
Who Can Care for Those With It?
Many senior-living communities claim to work with individuals who have vascular dementia, but Parc Provence does much more to put everyone's mind at ease. Its experienced medical professionals and dedicated staff provide an exceptional daily experience for all residents.
As a community of well-being which puts residents at the center of every decision it makes, Parc Provence empowers senior adults by promoting individual physical and cognitive abilities. From an administrator with 30 years of nursing experience to medical directors who serve as leading authorities on gerontology and dementia at Washington University, it provides unrivaled care, 24 hours a day, seven days a week.
Parc Provence
Located in West St. Louis County at Interstate 270 and Olive Boulevard, Parc Provence has been the St. Louis region's leader in memory care for more than 15 years.
Parc Provence offers a full continuum of memory care from assisted living to skilled nursing plus the area's finest physical, occupational and speech therapy services. Staff members are trained to meet the ongoing medical needs of each resident.
Residents live in households with individuals of similar abilities and care levels. A care plan is customized for each family to meet the specific needs of each resident. Parc Provence supports ongoing independence, but works diligently to provide supervision and safety.
For more information on Parc Provence or to schedule a tour, please call 314-697-2081. Our professional staff is happy to meet with prospective residents and/or their loved ones. We are here to help.