Better Eating Leads to a Healthier Brain & Body
Better Eating Leads to a Healthier Brain & Body
National Nutrition Month is an Ideal Time to Evaluate Your Diet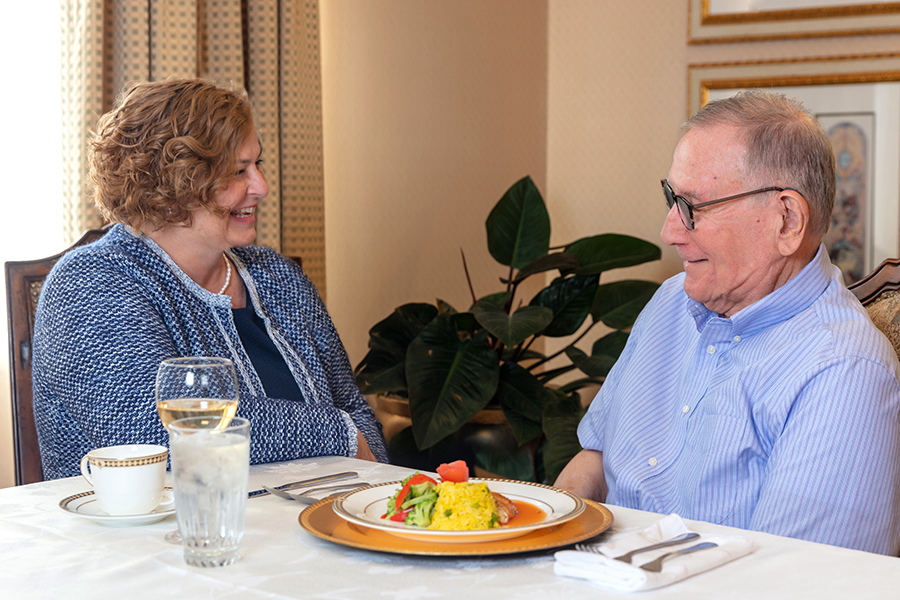 With March being National Nutrition Month, now is an ideal time to evaluate your diet. The poor eating habits most of us fall into during the holiday season are in the rearview mirror. And with temperatures warming up as spring approaches, there is renewed optimism regarding health.
Better eating is particularly important for men and women living in senior communities such as Parc Provence. It leads to increased mental sharpness and better physical condition.
Published reports suggest a healthier diet can even prevent or delay age-related cognitive decline. Many believe what we eat can affect the aging brain's ability to think and remember.
More of What the Body Needs
Plant-based diets rich in fruits and vegetables are recommended, especially for seniors. Individuals who eat healthy items from those categories, plus fish, generally have a healthier brain, stronger heart and better-conditioned body overall.
Blueberries, leafy greens, and many other healthy foods have been studied for their potential cognitive benefits. The items were thought to have anti-inflammatory, antioxidant, or other properties that might help protect the brain. So far, there is no evidence eating or avoiding a specific food can prevent Alzheimer's disease or age-related cognitive decline.
But scientists continue to actively search for clues. One study found that eating a daily serving of leafy greens like spinach or kale was associated with slower age-related cognitive decline. Perhaps that is due to the neuroprotective effects of certain nutrients. Another recent study, in mice, found that consuming a lot of salt led to some cognitive impairment.
Connecting the Digestive System & Brain
Researchers are learning how the biochemical processes of food intake and digestion interact with changes in the brain. They are finding the community of viruses, bacteria, and other microbes in the digestive system that may influence the onset and progression of Alzheimer's.
Studies illustrate how the composition of the gut microbiome in Alzheimer's and mild cognitive impairment is different from that in cognitively normal beings. Changes in the gut microbiome as people age have been linked to disruptions in the immune system and chronic diseases.
Larger Brains Protect Against Dementia
Older men and women who are dedicated to healthier diets tend to have larger brains, which research shows may help protect against dementia. Healthy fruits, vegetables, whole grains, nuts, dairy, and fish have been associated with larger brain volumes.
One report suggests those engaged with healthier eating had an average of two more milliliters in total brain volume when compared to those who did not. To compare, a brain volume that is 3.6 milliliters smaller is equivalent to about one year of aging.
Dementia Risk Based on Diet
Experts say changes in the brain can occur years before the first symptoms of Alzheimer's appear. These early changes suggest a possible window of opportunity to prevent or delay dementia symptoms. Scientists are looking at many possible ways to do this, including drugs, lifestyle changes and combinations of these interventions.
Unlike other risk factors for Alzheimer's that can't be changed, such as age and genetics, people can control lifestyle choices such as diet, exercise, and cognitive training.
Certain diets may affect biological mechanisms, such as oxidative stress and inflammation, that lead to Alzheimer's. More meaningful diets can impact other risk factors such as diabetes, obesity, and heart disease. New research also focuses on the relationship between tiny organisms in the digestive system and Alzheimer's.
Our Gourmet Dining Experience
Parc Provence is proud to offer residents a wide variety of healthy dining options, which span all food groups to help with brain and overall body health. Our chef brings a demonstrated record of success and dedication to his day-to-day craft.
Each meal at Parc Provence includes fresh and high-quality ingredients. Our dining staff collaborates with residents and their families to make sure special appetites/tastes and dietary requirements are accommodated regularly.
More on Parc Provence
Parc Provence has been the St. Louis region's leader in memory care for more than 15 years. The community is located in West St. Louis County, just off Interstate 270 between Ladue Road and Olive Boulevard.
Parc Provence offers a full continuum of memory care from assisted living to skilled nursing plus the area's finest physical, occupational, and speech therapy services. Staff members are trained to meet the ongoing medical needs of each resident.
Residents live in households with individuals of similar abilities and care levels. A care plan is customized for each family to meet the specific needs of each resident. Parc Provence supports ongoing independence but provides supervision and safety.
For more information on Parc Provence or to schedule a tour, please call 314-697-2081. Our professional staff is happy to meet with prospective residents and/or their loved ones. We are here to help.