Effects of Summer Heat on Individuals with Dementia
Effects of Summer Heat on Individuals with Dementia
Warm weather and summer sun require extra precautions, especially for seniors. As we age, our bodies have a decreased ability to perspire and regulate body temperatures. Those with memory loss may be particularly at risk for dehydration, heat stroke, or sunburn without help from others.
According to The Centers for Disease Control, three reasons why seniors are more prone to heat stress than the general population:
As we age, we lose the ability to control our body temperature. Sudden temperature changes are not easy to adjust to.
Chronic medical conditions, including cognitive impairment, can increase the risk of heat-related illnesses.
Medications, including the combination of multiple medications, can interfere with the body's ability to regulate heat.
Here at Parc Provence, our staff undergoes extensive training in all aspects of dementia and Alzheimer's care, including measures in place to protect residents from summer heat waves. To ensure our residents stay comfortable and safe at all times, we have the following protective measures in place:
Residents are to remain in the comfort of our building, especially during the hottest times of the day (from 11 a.m. to 4 p.m.) Our air conditioning is checked regularly to ensure it is in prime working order.
Dress residents in lightweight, light-colored, loose-fitting clothes in natural fibers, such as cotton. Wear hats or use umbrellas outside.
If a resident must go out, such as for a doctor's appointment, recommend scheduling appointments during early morning hours and limit the amount of time outside.
Provide residents cool showers or baths.
Residents need to drink plenty of fluids – at least 8 glasses of water a day.
Signs of heat-related illness, such as hyperthermia, include a headache, nausea, dizziness, feeling faint, fatigue, and cramps. If the body temperature reaches above 100 degrees, medical attention is required immediately. It may be a sign of heat stroke. Other symptoms include rapid pulse, fast and shallow breathing, seizures or convulsions, and coma.
Summer can be safe and enjoyable for everyone, especially with few additional precautions for friends and loved ones with memory loss.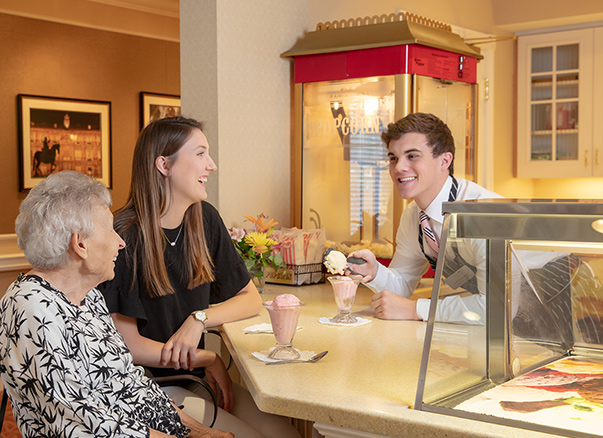 Come See for Yourself
At Parc Provence, we can help you learn about the benefits of memory care without pressure. Our residents and their families always come first. Their comfort and care is our number one priority. We are proud of our services, and we would love to give you a tour of our community. Call us today at 314-697-2081 for more information, or to schedule a personal tour.