"I will never understand all the good that a simple smile can accomplish."
– Mother Teresa
According to a study done by researchers at Harvard and the University of California at San Diego and a detailed story published by National Public Radio, our happiness is linked to the social networks we build and the interactions we experience with others. In fact, according to this study's research team, observing a child's smile can produce in us the same kind of stimulation we experience when we receive a large sum of money or enjoy a bit of chocolate.
What does this mean for the residents, family, and friends Parc Provence services? It confirms that our approach to social interaction is the right one. We know that a gesture as simple as offering a smile can have a positive effect on the recipient's mood, health, and behavior. Why? The study answers this question: When a person sees another person smile, his or her brain is hard-wired to return that smile. It takes a conscious effort not to smile at someone who smiles at you. And when we smile as an automatic response to someone else's happy face, we enjoy positive benefits. The act of smiling activates neuropeptides, which help fight stress. Smile releases, dopamine, endorphins, and serotonin, substances that allow us to experience pleasure and also lower heart rate and blood pressure.
We love smiling faces at Parc Provence. If you need more reasons to smile or want to learn more about the benefits of smiling, visit the following websites:
Livestrong: Health Benefits of Smiling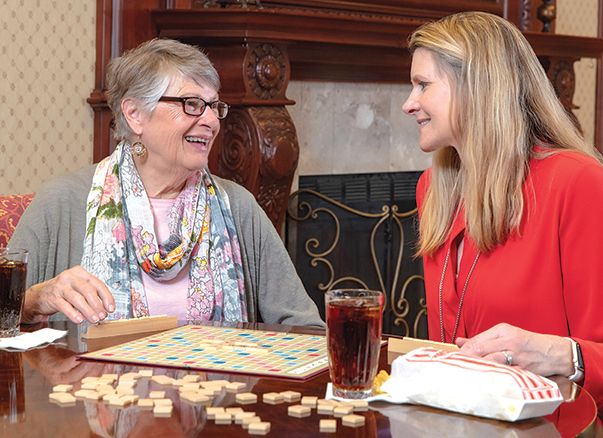 Come See for Yourself
At Parc Provence, we can help you learn about the benefits of memory care without pressure. Our residents and their families always come first. Their comfort and care is our number one priority. We are proud of our services, and we would love to give you a tour of our community. Call us today at 314-697-2081 for more information, or to schedule a personal tour.