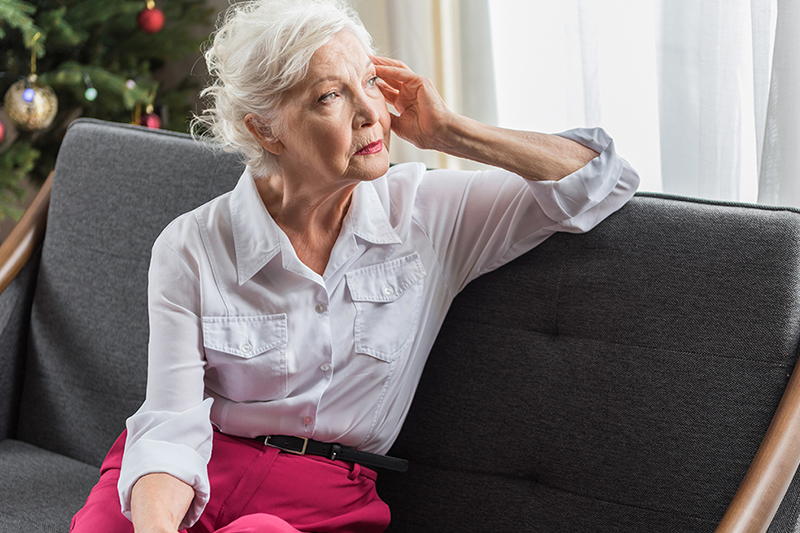 With age comes wisdom: a truism worth trusting. For instance, those of us who've experienced more than one or two holly, jolly holiday seasons know the season's stressors can sneak up on us in less than joyful ways. There might be ice under the pretty blanket of snow — and a tinge of sadness wrapped up with the joy.
The Holiday Blues, we call them. But the feelings of loss, weariness, and sadness many of us experience this time of year should not be dismissed, especially for older adults who are keenly aware of the passing of time. Chronic illness, worries about finances, the loss of loved ones: these issues can add weight to even the most buoyant spirit, especially this time of year when expectations of happiness run high.
If Holiday Blues have begun to seep into your celebration or someone else's, here are some remedies to try:
Be accepting — Try to let go of any need to make the season "perfect," beginning with the sense that the Holiday Blues are ruining things. If you're sad, pretending not to be won't help. Nor will it help to remind a loved one to "cheer up" because it's the holidays. If you can laugh about it, so much the better.
Talk about it — Let a good friend or sympathetic relative know how you're feeling. Make yourself available to the loved one who is feeling a little down. A phone call, a coffee date, a text or email, letter or card: Do what you can to make contact.
Get moving — Isolation is the perfect environment for growing sadness. Attend a party, take a walk. If your loved one is alone too often, make your visits more frequent. If you have a friend who is feeling a little down, take her with you.
Help and be helped — Give some of your time to another. Can you help by shopping, cleaning, cooking? Whether you're the one with the blues, or the one assisting someone else, offering your time will make a difference.
In addition to the regular activities at Parc Provence, our Holiday Calendar includes a number of occasions designed to help residents and their families navigate what can be a difficult time of year. We hope you'll include us in your celebration – and call on us if you need our help.
For more information or to schedule a personal tour, please call 314-697-2081.