Music therapy is a clinical, evidence-based practice that helps participants achieve personalized goals through music. It is one of the most valued tools in memory care because it has been proven to trigger activity throughout the brain. Our music therapists design customized music interventions to elevate mood, enhance memory, reduce isolation, encourage communication, and increase self-esteem. For participants, the act of listening to music also can stimulate seemingly lost memories and help maintain physical, social, emotional, and cognitive functioning.
What is a music therapist?
True music therapy must be administered by a board-certified music therapist. Specialists who are board-certified have completed a four-year bachelor's degree in music therapy in an accredited AMTA program at a college or university. In addition, the therapist must complete a 1,040-hour music therapy internship and pass the Board Certification Examination in Music Therapy. To maintain certification, a music therapist must acquire 100 continuing education credit hours every five years.
What does a music-therapy session entail?
In order to treat each resident effectively, we tailor goals to match specific characteristics, including the degree of dementia or stage of Alzheimer's, as well as to individual interests and personalities. Residents can benefit from music therapy by participating in a group or in private sessions.
During music therapy, our therapists may play familiar tunes on instruments while residents repeat the melody in response. Sing-alongs and musical theater are also popular with residents and their families, and many of them take advantage of our annual Music Festival, this year held in June.
What are the benefits of music therapy?
In addition to stimulating communication and memory skills, music therapy promotes positive changes in mood, increases self-esteem, reduces anxiety, sparks interests, promotes memory recall, and can help with pain management. We use music therapy to stimulate memory and intellect, which affects the quality of life of each of our residents.
Parc Provence's certified music therapists are one facet of a multi-talented staff trained to help each resident achieve his or her potential and enjoy each day to the fullest. During the month of June, Parc Provence hosts a Music Festival to celebrate the joy of music and its profound, positive effect in our community. Many of our events are open to the public, and we are proud to showcase the amazing talents of our music therapy team and our residents.
This year's Music Festival is "Educate. Inspire. Elevate." For more information, visit www.ParcProvence.com/musicfest. Events occur June 5 through June 29, 2018. We look forward to seeing you.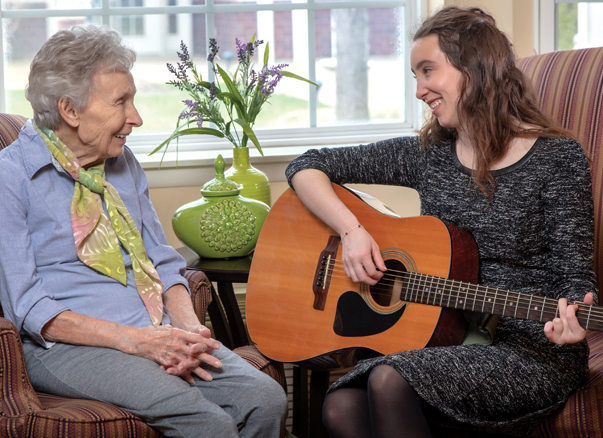 Come See for Yourself
At Parc Provence, we can help you learn about the benefits of memory care without pressure. Our residents and their families always come first. Their comfort and care is our number one priority. We are proud of our services, and we would love to give you a tour of our community. Call us today at 314-697-2081 for more information, or to schedule a personal tour.