The Holidays and Alzheimer's Disease
The Holidays and Alzheimer's Disease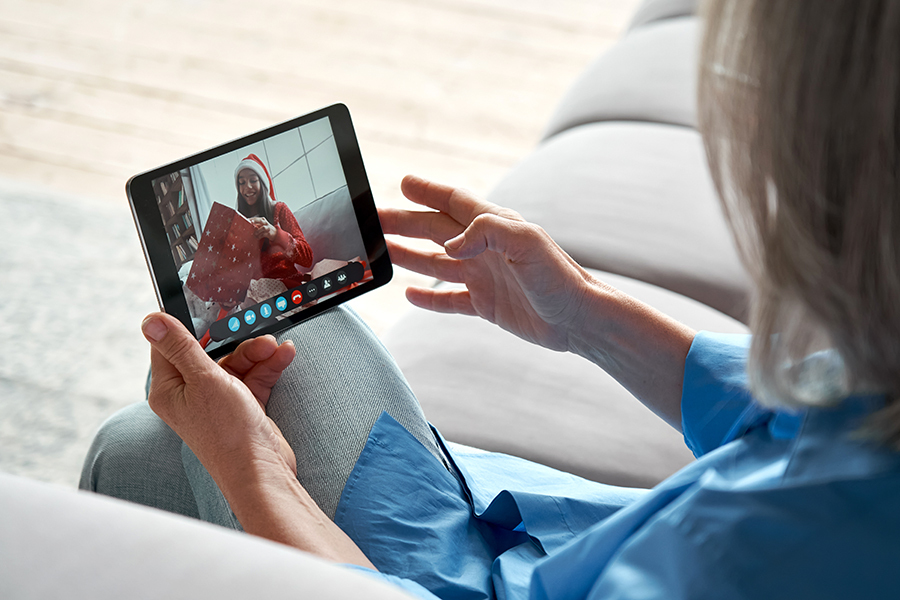 The Holidays! They can be comforting, joyous, celebratory, and warm. They can be fraught, stressful, and exhausting, too. This year, many of us are likely to experience all these emotions and more as we navigate the compromises and limitations a pandemic has brought to our lives.
For those of us caring for loved ones with Alzheimer's disease or dementia, the holidays bring even more complicated emotions. At Parc Provence, we are embracing the season with gratitude, realistic expectations, and a spirit of joy and caring that we all deserve.
It's in that spirit that we offer the following tips for your family:
As the Alzheimer's Association recommends, we encourage you and those in your family to assess and adjust your expectations for this holiday season. If you are caring for someone with Alzheimer's or dementia, be clear about what you will—and won't—have time to do this season. Consider not only your physical energy but your emotional energy and adjust your commitments and schedule accordingly. Use a family video chat to give everyone a chance to discuss and align their hopes and plans for the season to what is both possible and safe.

And, whether your loved one has recently received a diagnosis of dementia or has been living with the disease and has new limitations, now is a good time to talk about those changes with family and friends. Let them know what to expect—and how they can help.

We encourage you to visit the Centers for Disease Control and Prevention website (www.cdc.gov) for guidelines on safe conduct during a pandemic. You'll find a wealth of information about best practices in mask-wearing, sanitizing, travel, social distancing, and other important measures we can take to keep one another safe. If Alzheimer's means your loved one might not be able to comply in all situations, it will fall on family and friends to help maintain safety measures.
Use the need for social distancing to build new traditions: leave care packages, baked goods, or other small gifts on the doorsteps of those you love; schedule a drive-by holiday parade, asking friends and family to drive by the home of your loved one with festooned cars, cheerful waves, and maybe even some socially distanced sidewalk caroling. Take a walk around the block with your loved one to take in the holiday lights and decorations. Use this as an opportunity to visit memories of holidays past. Pick a night for a family outdoor celebration, complete with hot drinks and warm blankets. Hold your annual cookie-baking session via Zoom.
Help your loved one celebrate in ways that are safe and satisfying. Play music that has been part of past celebrations and may elicit conversation about memories and traditions. Bake together, or wrap presents, prepare holiday cards for the mail, look through the family photographs. And remember, that even during the holidays, a familiar routine is comforting to those who are struggling with cognitive problems. Honor those routines as you plan your season.
Friends and family may look to you for advice about gift-giving. Keep in mind your loved one's abilities as you make wish lists. Gifts that may cause frustration—things like puzzles, tech tools, and complicated games—should be avoided. Instead, consider things that bring comfort and a sense of connection: music CDs, a comfortable sweater or blanket, a photograph of the family, a box of favorite treats.

And for those who are caring for loved ones with dementia, gifts of time and assistance are both thoughtful and helpful. Maybe an afternoon getaway to a spa, or a gift certificate for a home-delivered meal from a favorite restaurant; someone to help with garden work in the spring, or a home-delivery laundry service.
What's most important about the holiday season is the time we set aside to connect with those we love. Even in the face of Alzheimer's and a pandemic, you can make this season just as meaningful as those in the past if you take the time to pare away the things that just aren't possible or safe. Instead, concentrate on giving meaning to the things that are possible.
As a memory-care community grounded in science and compassion, Parc Provence strives every day to make life safe, healthful, and meaningful for our residents and their families. As always, we're here to answer your questions and offer support. Please call 314-697-2081.
Best wishes to you and your family for a safe, thoughtful, compassionate, and joyous holiday season.