The Link Between Health and Nature
The Link Between Health and Nature
Many of us experience a true sense of rejuvenation when we spend time outdoors. Some of us may gravitate to forests and woods, others to shorelines. And we reap mental, spiritual, and physical benefits from a brief sit on the front or back porch, or from a stroll to the corner and back.
As it turns out, there's some science behind this intuition we have that time spent outdoors is good for us. Jessica Finley, a graduate student at the University of Minnesota, published a study in the journal Health and Place showing that older adults do benefit from outdoor spaces like the ones at Parc Provence. For the purposes of the study, Finlay defined outdoor spaces as green (with gardens and other botanical features) and blue (outdoor spaces with still or running water). Finlay also noted in her study that younger adults tend to seek time outdoors as a means of escape from the stresses of careers. Older adults tend to use outdoor spaces for physical activity, social engagement, and spiritual renewal.
In the study, Finlay and a team of researchers looked at how exposure to outdoor settings, such as a bench with a view of flowers or the sound of bees, affected study participants. The team found that access to nature helped decrease boredom and improve feelings of health, and it also results in increased activity in older participants. Additional findings suggest time spent in green and blue spaces, helps older adults who have chronic illnesses by promoting feelings of restoration and renewal.
Green Spaces at Parc Provence
Because we know that green and blue spaces can make a healthy difference in the lives of our residents, we have designed beautiful outdoor spaces as part of our living environment. And we've made them easy to enjoy, incorporating safe walking paths and well-placed seating areas, where it's possible to walk with friends and family and find spaces to sit and converse. We also use our green spaces as settings for art-therapy sessions. We offer peaceful outdoor spaces to encourage relaxation, reflection, and encourage residents and their visitors to use them every day.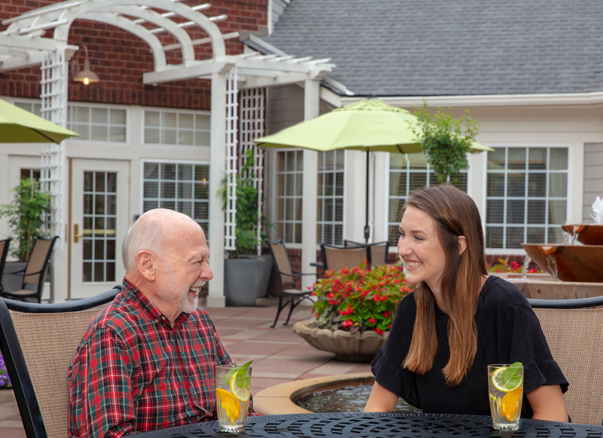 Learn more about us
Parc Provence was intentionally designed to bring out the very best in our residents. From our award-winning household design and daily activity schedule to our abundant natural, outdoor spaces, we truly are a community of wellbeing.
We invite you for a visit. See for yourself how every aspect of our community enhances the lives of our residents. Call us today at 314-697-2081 for more information, or to schedule a personal tour.