The Role of Psychiatrists in Assessing and Treating Alzheimer's Disease
The Role of Psychiatrists in Assessing and Treating Alzheimer's Disease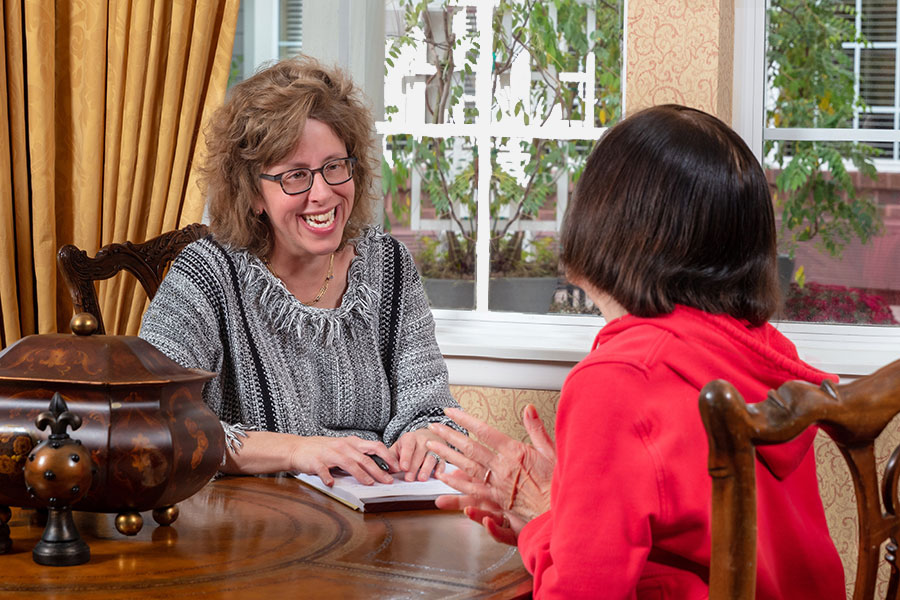 Alzheimer's disease is a study in contrasts for adults who have the condition. It causes dementia and loss of function that can trigger alternating stages of calm and irritability, acceptance and resistance, clarity and confusion, says Dr. Aviva Raskas, consulting psychiatrist at the Parc Provence memory care community in Creve Coeur.
The Importance of Being Supported, Protected, and Engaged
Raskas explains that because the disorder has such wide-ranging effects, it's important for residents to be supported, protected, and engaged. At Parc Provence, caring providers and staff ensure that happens. "In the beginning, most people with Alzheimer's recognize that they are losing their memory, and they often become frustrated about forgetting and misplacing things," Raskas notes. "They learn ways of disguising their forgetfulness because the embarrassment can be very tough to handle. Social isolation often starts to creep in, so staff members are well-versed in recognizing the signs and providing necessary help."
Over time, patients' awareness of the disease's impact starts to decrease, according to Raskas. "As memory loss progresses, they become less in tune with it," she says. "It literally becomes harder to remember that you are forgetful. Some people struggle with anxiety and depression, while others seem to become more content and relaxed. Patients may begin one way but not continue on that path; they can switch from being short-tempered to pleasant, or vice versa. The experience is different for each person."
Psychiatrists and Dementia
Psychiatrists play a critical role in assessment, diagnosis, education, and intervention. They help to integrate information from multiple sources and frequently partner with other medical professionals to deliver multidisciplinary and comprehensive health care.
Raskas notes psychiatrists treat a variety of symptoms and comorbid diagnoses that arise when dementia is present. Individuals with dementia often experience depression, anxiety, and aggression. and, at times, psychosis, which may include hallucinations and possible delusions. As mental health professionals, psychiatrists work with patients and their families to evaluate and treat these issues. This may include medication, but equally important is the evaluation of the living situation and social environment.
Working as a Team
Parc Provence staff members work as a team to ensure residents stay mentally and physically active for their well-being. "The community offers an extraordinary amount of positive programming," Raskas explains. "Activities are easily accessible, stimulating, and appropriate for people in different stages of memory loss. They also help residents interact with each other, which is incredibly important." There are opportunities for exercise, music and art therapy, movies, speaker presentations, and much more.
Raskas adds that research shows regular social interaction and personal attention are very important to an Alzheimer's patient's quality of life. "Our team members are adept at familiarizing themselves with the priorities of each person," she notes. "Employees can create bonds because they understand residents' likes, dislikes, and life experiences. And as the disease progresses and verbal communication becomes more difficult, staff members come up with other meaningful ways to engage."
Educate Yourself About Alzheimer's Disease and Other Forms of Dementia
Raskas says families need to educate themselves about the condition, which affects nearly 6 million Americans. "Memory loss tends to slip in the door quietly, and people often don't recognize the early stages," she notes. "Parc Provence makes sure each resident feels at home in a safe, protected, and caring environment."
Telehealth Option
During the current pandemic, Parc Provence is offering telehealth options to residents, including the services of Dr. Raskas. Telehealth allows contact with the residents through electronic information and telecommunication technologies.
Parc Provence
While currently not scheduling tours or accepting new residents, Parc Provence is here to answer any questions you may have about memory care. They are proud of their services, staff, and community. Call 314-697-2081 to learn more.
Text based on an interview by Julia M. Johnson in Town&Style Saint Louis