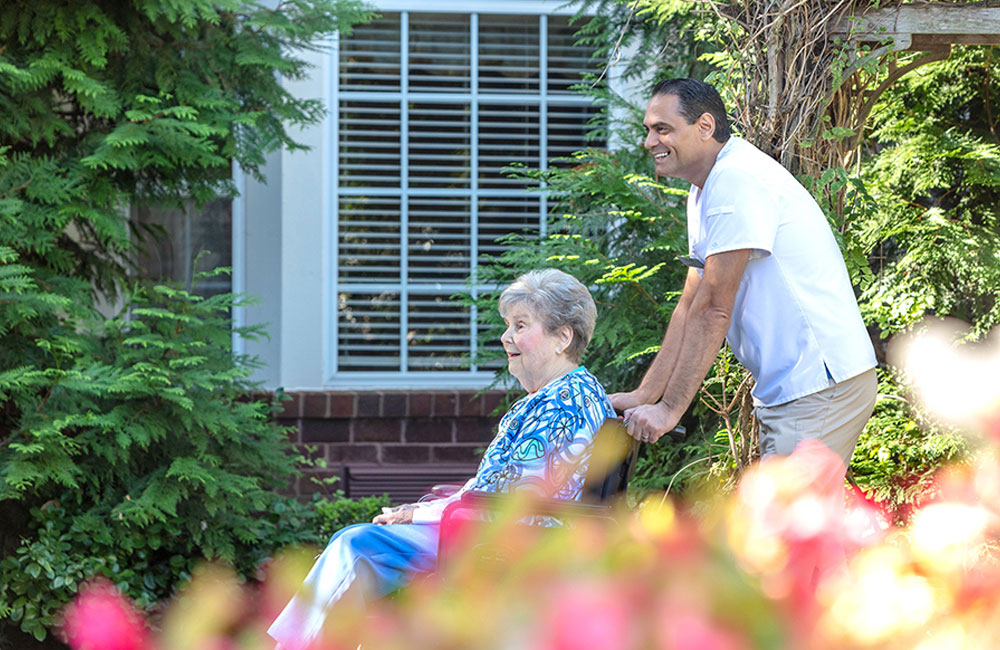 Change can act as a significant stressor, even if the changes are wanted or needed. That struggle can be even more profound for people with Alzheimer's disease and other cognitive diseases – and the loved ones who support them.
For many with memory issues, one common and significant change is the move from home care to a residential-care community. As you begin to plan for this kind of transition, you can reduce anxiety by minimizing the number of moves your loved one must make and offer your loved one a sense of familiarity and continuity.
Some residential communities offer care for people in the early stages of Alzheimer's but are not prepared to provide an effective and adaptable treatment plan as the disease progresses.
"At Parc Provence, a licensed skilled-nursing community, we specialize in caring for people with dementia," says administrator Kathy Aragon. "That specialization includes providing all residents with support and medical care at each stage of the disease."
"Dementia is challenging, not only for those diagnosed with the illness but also for families struggling to understand the impact of this condition," Aragon says. "Families of seniors in need of memory care are looking for education, support, and compassionate care."
With more than 30 years of nursing experience, Aragon's career has focused on long-term care. She understands that dementia is challenging for those with the illness and for their loved ones who must come to terms with the disease. "Many of our families have chosen Parc Provence because they want a residential community that offers memory care and medical expertise at all stages," Aragon adds.
The expert staff has completed extensive training in all aspects of dementia and Alzheimer's care. Medical director Dr. David B. Carr and associate medical director Dr. Lenise Cummings-Vaughn are leading specialists in Alzheimer's disease and geriatric medicine at Washington University School of Medicine. They bring the latest advances in memory care, ensuring all residents receive the best care available.
"The expertise Drs. Carr and Cummings-Vaughn bring to Parc Provence influences everything we do, from providing appropriate daily activities to monitoring their nutritional needs," Aragon says. "It is important for adults with memory issues to stay active and keep their minds busy. Research shows that socialization and engagement improve brain health. We offer the kind of therapies, activities, and on-site medical care that make an effective difference in the lives of people with dementia."
Parc Provence offers extensive programs, one-on-one services, and amenities tailored to each resident's cognitive and social abilities. "We conduct regular assessments of each resident's abilities and needs to allow for individual change," Aragon notes. "Our wide range of programs and activities are designed to enhance the strengths of all residents and connect with their old memories, thereby enabling them to function at their highest potential."
Though a move to a residential community like Parc Provence – one that offers personalized treatment plans and a continuum of care – may eliminate the need for another relocation in the future, the process may still prove stressful for all involved. Aragon says, "We work with new residents and their families before the move and can offer advice and support that will help make the transition easier. Our residents' comfort and care are our top priority."
To learn more about Parc Provence's individualized continuum of care, designed for people at all stages of Alzheimer's disease and dementia, call 314-697-2081.