Using Art to Deal with Dementia
Using Art to Deal with Dementia
Parc Provence is Celebrating Art Therapy in April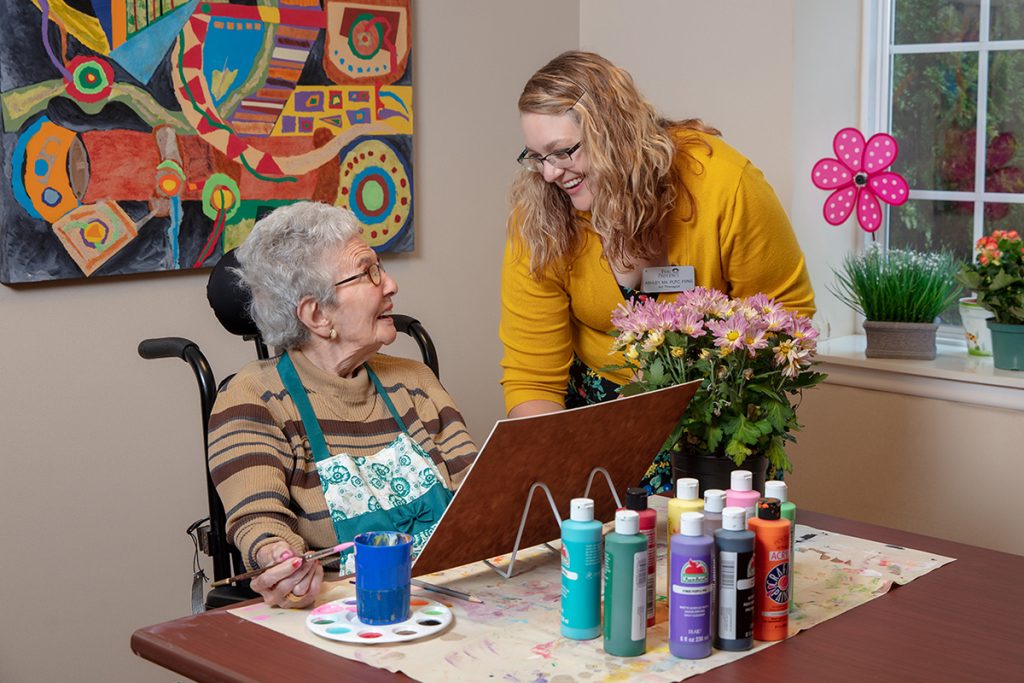 Cognitive diseases such as Alzheimer's are devastating in their ability to diminish and deplete. Though these negatives are certainly real, it is very possible to reach inside the shadow of dementia and touch something vibrant in the person who seems to be receding.
One effective way to do that is through art therapy. A skilled therapist, trained to use art-making as a form of communication, can facilitate this kind of connection, allowing a person with Alzheimer's to find an outlet for emotions and ideas. The act of making art builds a bridge, opening different paths of communication.
How It Works
An effective art therapy program can significantly improve the quality of life for the person with Alzheimer's and their family members. When properly administered, art therapy can:
Stimulate sensory experiences
Offer a sense of dignity and purpose
Exercise fine-motor skills
Create opportunities for socialization
When practiced within a residential establishment, art therapy also enhances the quality of life for the community as a whole, offering a rich and deep sense of belonging to residents, staff, and visitors.
Why It Works
When practiced properly, an art therapy session, whether with a therapist and an individual or a group, creates a safe and accepting environment for all participants. In this space, there is no right or wrong. The person making art can let a bird be a dash of color or a detailed representation or something altogether different. And that bird –painted, drawn, or traced — can appear as an object in a collage or as a ceramic sculpture, or be remembered in a favorite song.
Art therapy sessions use a variety of stimuli, including traditional art-making materials, as well as song, storytelling, and writing. Each medium offers sensory experiences and feedback. The person making art feels the firmness of the pencil or the malleable nature of the clay and responds accordingly. The art maker connects with the chosen medium to create a new object, and the act of creation connects the art maker to memories and experiences.
When It Works
Art therapy is an effective tool throughout the Alzheimer's disease continuum. It can help a person newly diagnosed with the disease to process emotions of grief and loss. Making art can help manage the process of leaving home to settle into a residential community. And it can help express thoughts and emotions that arise during the challenges of daily living. Art therapy can also help those in the early stage of dementia maintain both short- and long-term memory recall as long as possible.
An art therapy program can also help those in the middle stage of Alzheimer's disease live with increasing memory loss, confusion, and physical limitations. The act of making art helps promote cognitive function and fine-motor skills. It helps access memories and offers a sense of accomplishment.
In the late and end stages of the continuum, art therapy continues to offer opportunities for sensory experiences and exploration, helping participants focus on the present moment. Those with vision impairment also benefit from this kind of sensory stimulation.
Parc Provence offers its residents an art therapy program run by qualified professionals. These important members of our team offer sessions that are tailored to the individual and personal needs. Ultimately, the goal of our art therapy program is to help our residents and their families make the most of each day.
Schedule a Personal Tour Today
Schedule a personal tour today by calling 314-697-2081. Our staff would be happy to talk with you about our art therapy program and community or answer any questions you might have about dementia and cognitive care.